Noble Audio BTS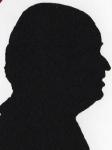 Do you like using headphones or earbuds but do not like being tethered to the source of your music? The answer then may be at hand with this small object from Noble Audio that is about half the length of a ball point pen that you plug your buds into.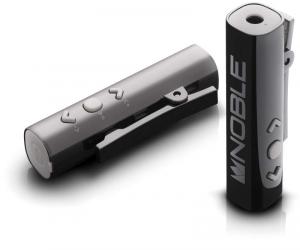 click image to enlarge
Of course if you are playing music from a SmartPhone then although slightly larger and heavier the phone could sit in a jacket or shirt pocket.
However if playing better quality sound from a larger device then Wi-Fi or Bluetooth is required and this solution is a small easy to use Bluetooth option. However the thing you are playing your music from must send out Bluetooth signals.
It is 6cm long and 1.2 to 1.6cm on its sides the larger figure is the pen grip type clip.
The side to the left of the grip has three buttons < 'push' and >. The top has a 3.5mm socket for your headphones or earbuds. The bottom has rubber bung that hides the charge point – micro USB – and the bung also has another function.
The only instructions that I got with the unit is a single piece of card with four short paragraphs which should cover turning on and off and pairing. Anything else you need to go to their website.
There is a rather strange looking 3.5mm lead to two pairs of pins, it is not mentioned in the manual but I contacted them and was told the supplied 38cm wire is for Noble Audio, and other IEMs/CIEMs, there is also a small pouch that can take the unit as well as any leads you might like to travel with.
So for those whose device are large and or valuable then stick them out of sight and just have this 11gram clip sticking out of a pocket. Providing the headphones or earbuds do not look that flash then you should be fairly safe walking the streets and the sounds you hear especially from say a notebook or tablet could be of a lot higher quality than standard MP3.
For those connecting to a SmartPhone then you have the ability to answer a call without getting the device out on show, no one is going to want to steal something that looks like half a ball point pen.
I was happy with the sound quality but of course the old statement of 'rubbish in rubbish out' still applies so do not expect low quality MP3 to sound like an orchestra in a concert hall. Give it better quality well recorded audio even decent .WAV files and your ears can be in for a treat.
I have not had the chance to sample things from the Noble Audio range I know its high end and this perhaps a toe dip into the waters where most of us live.
You should be able to get around seven hours of Bluetooth streaming to this device between charges. A full recharge takes less than two hours.
The Noble Audio BTS is available from the link below for £69.