TDK TREK Flex Speaker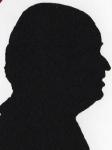 A single cylinder shaped unit that has reasonable battery life, it supports Bluetooth, NFC and even connection via 3.5mm lead. Perhaps the most important factor is sound quality and here I was certainly perfectly satisfied with it.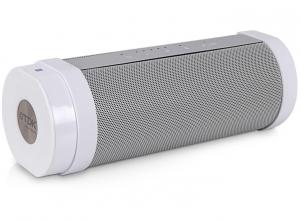 click image to enlarge
It is 19.5x7.5x6.5cm and weights 567grams.
It is almost a cylinder with two opposite edges slightly flattened.
It can be used either horizontally or vertically, assuming the former the back has a large rubber bung behind which are connections for Micro USB, 3.5mm lead (not supplied) and an on/off slider. A 25cm micro USB to USB lead is supplied to charge the unit.
The top left edge has a NFC touch point and along the central area of the top are a total of eight LED's just in front of these are six touch controls. These are on/off, - and + for volume (spaced below the next five LED's) then Bluetooth and finally answer/play pause.
The five LED's below the volume control give ten volume levels, each one has two degrees of brightness to achieve this, a clever and well thought out control, when you next turn the unit on - even if it has been used till the battery runs out – it starts again at the same volume level . When the battery gets to around 15-20 minutes of power left the orange LED glows and flashes red to warn of the low state.
8hours is the claim for use between charges and I got between 8hours 13minutes and 8hours 22minutes consistently. The recharge time was half that averaging 4hours and 8minutes.
An A4 side of a larger sheet is devoted to English – I think there are a total of 16 languages included on four different sheets, it is divided into two columns and the instructions are clear and well laid out in a reasonable type size.
Pairing to use as a Bluetooth device is simple just turn your SmartPhones Bluetooth on and Trek Flex will be discovered and in my tests it was always remembered even after a few weeks.
NFC is even simpler just hold your phone within a couple of centimetres and the connection is made.
Answering a call is just a matter of pressing the answer/play button and the built in microphone will cut in then press twice to disconnect you never need to go to the SmartPhone.
If you leave the unit powered on it will turn off automatically after 20 minutes of no use. While the Trek Flex is splash resistant it is not designed to get really wet.
The sound quality was rather good and one of my tests involves using a 3.5mm lead connected to my audio system the volume level I chose on the unit was three LED's and the level on my audio system would normally be 15 for listening locally I had to reduce this to 12 when using the unit as otherwise the volume was a little high so there must be some internal amplification.
The stated output is 4W x2 for the internal speakers, there are two 40mm speakers and a 90x42mm passive radiator.
I liked this unit and at the current price it is certainly worth a highly commended.
The TDK Trek Flex is available for £66.67 available in white or black.
http://www.amazon.co.uk/gp/product/B00V85Y56G?ie=UTF8&tag=gadge0a-21&linkCode=as2&camp=1634