Fugoo Sport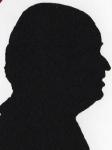 A Bluetooth speaker with good battery life excellent sound and it can not only get wet like in the bathroom but get involved with you while for instance riding a bike or perhaps even more extreme tasks beyond my current imagination.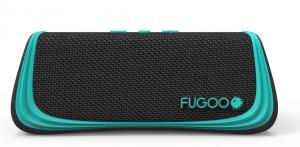 click image to enlarge
The FUGOO Sport Bluetooth Active measures 18x5.5x7cm; the 5.5cm is at the bass and its only 4cm wide at the top. Mine was black with turquoise blue rubber trim but I know there are different jackets available.
Let's first mention the accessories that come in the box. Mains charger that goes to a USB lead also in the same turquoise colour, next a 3.5mm extension lead yes you have guessed it in turquoise blue and finally a fabric slip case.
Things that can be purchased for those who are sports minded, a bike mount, strap mount and multi mount, then for those whose sport starts and finishes at the arm chair a remote control.
There is a card startup guide where one of the four sides describes the controls and speaker anatomy, a second describes powering up and connecting and that's about all you need to know.
One end of the unit has on/off button and LED to show Bluetooth and or battery charging. The other end has micro USB and 3.5mm ports the latter for those who prefer their music corded.
In my tests I consistently got 21-23 hours per charge either over a couple of days or a week dependant of the use given. So like some other recently reviewed units around half the time stated.
The top of the unit has three buttons '+ O -' these three button used in various combinations as described in the Startup Guide control the unit and give play/pause, volume up or down, next track, previous track or start voice control. There is also an invisible microphone on the top to the left of the '+'.
The on/off button apart from doing the obvious also from a short press will give you a voice stating the current battery state, as an example 'about three quarters'.
You are also informed of low battery automatically when you have around 10 minutes of use left as well as switch on, switch off and Bluetooth connection.
As far as the speakers they are all round the unit, front and back as well as at the sides. Their website says 'six drivers, two tweeters, two mid/woofers and two bass drivers' Other claims are 'sand/snow proof' and drop tested to 'three feet'.
As stated I can confirm bathroom proof but I resisted actually dropping it into water.
I was impressed with the sound both from Bluetooth use which of course was MP3 type sound but I also used a 3.5mm lead to connect to my audio system to give better quality output where both higher and lower registers were covered, audio separation was also covered correctly.
You will note that the second link - their website - has comparisons to other medium to high price units with lower specifications.
The Fugoo Sport is available from the first link for £179.27 including delivery.
http://www.amazon.co.uk/gp/product/B00MUHYRMS?ie=UTF8&tag=gadge0a-21&linkCode=as2&camp=1634