Lindy Mini Headphone Amp and Splitter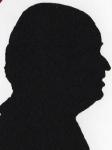 This is a tiny device that has two jobs, first to amplify the signal from your MP3 or other audio device and second to allow the signal to be shared so no longer will you need to see one earpiece in one ear and the other in another person's ear.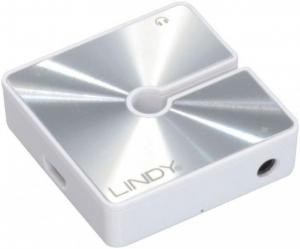 click image to enlarge
It is 2.5x2.5x1cm and weights only 15grams.
It has an internal solid battery and can be used while being charged as well as when charged.
The back has a micro USB socket to charge the unit; a 20cm micro USB to USB cable is supplied. The left side has a 3,5mm input and a 10cm 3.5mm to 3.5mm cable is supplied. The right side has two 3.5mm sockets so either one of two sets of earbuds of headphones can be connected.
On a sheer health point not sharing earbuds is surely a plus point.
The forth side has a key hole type indentation and in the centre is a blue LED this also a purple LED when charging is taking place. When fully charged the purple LED goes out.
Around two hours of charging will allow the unit to be used for up to twelve hours; a 30 minute charge should give enough power for four hours of use. It has no on/off switch but an intelligent switch that turns it off when no input signal is detected.
While the amplification amount is not huge – stated at 12% - it is significant. However there is also a bass boost which adds extra depth to the audio.
This tiny device can stay attached via 3.5mm cable to your MP3 or other audio device and then you just plug in either one of two sets of earbuds or headphones.
A clever device that does not cost a lot and possibly can save accidents. I have seen lots of people connected by one set of earbuds, one goes one way round an obstruction and the best outcome is the other earbud pots out however it can cause ear damage by being tugged and as I have already mentioned sharing earbuds is not a healthy exercise.
Often in noisy environments like a tube train the device does not have enough volume and the extra 12% would make a big difference. The output on MP3 and other audio devices are limited to avoid damage to the ears but an extra 12% should not hurt.
I liked this device and its ability as a splitter as well as a volume enhancer it is available from the link below for £22.98.
http://www.lindy.co.uk/audio-video-c2/headphones-c188/mini-headphone-amp-splitter-p7282