Thumb sized Speaker or Earbuds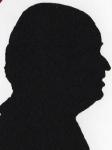 For those times when mains powered speakers or even large headphones are not acceptable then maybe a thumb sized speaker that enhances sound through what it rests on or maybe a set of decent earbuds may answer your needs.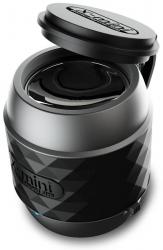 click image to enlarge
Thumb Sized Speaker
This is shaped like a barrel being 3.5cm wide at the top and bottom and 4.5cm at the widest part in the centre it is also 4.5cm tall. The central 3.5cm strip is rubberised as is its lid. It weights a tiny 47grams and this includes the metal clip that allows you to fit a strap and it also holds the lid when flipped open.
There are just two connections a micro USB (for charging) and a 3.5mm socket should you want to output music from any device that does not have Bluetooth. There is also a three position slider switch on the bottom edge and a single LED that can be blue or red.
This is mainly a Bluetooth device; I found it was discovered very quickly and once paired it was remembered. Using my iPod Touch the sound quality and level were vastly improved, as always with these type of devices what you rest them on determines the level and quality of sound, glass can be interesting, carpet is poor but wood and some plastics are excellent, concrete – providing it is smooth - gives a different resonance as does metal.
For sharing music with others from mobile phones or MP3 players then this tiny speaker is a rather nice and not expensive option.
The speaker is 31mm which produces 1.5watts in frequency range of 200Hz to 20KHz. A full battery recharge takes around 90 minutes. Playing time between charges can be up to 360 minutes.
The X-mini WE is available from the link below for £29.99 with free delivery.
http://www.amazon.co.uk/gp/product/B00ID0EDRU?ie=UTF8&tag=gadge0a-21&linkCode=as2&camp=1634
Sol Republic Jax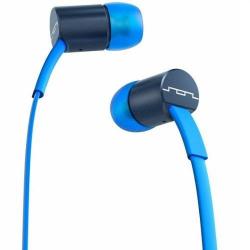 click image to enlarge
Still quite a new company but if you look you will find three reviews from me over the past year or so for both Headphones and Earbuds.
Here a set of earbuds. The lead is flat to avoid a lot of annoying knotting that takes place when you roll up the lead. The cord is 1.25metres from the earbuds to the gold plated plug. 30cm from the earbuds is the all important remote with microphone that allows you to answer calls and change tracks. The box states they are made for iPod, iPhone and iPad. I did however use them perfectly well on various Smart Phones, MP3 players and even my main audio system.
The silicon earbuds fit nicely in the ear and while some tend to irritate my ears after an hour or so I wore these for far longer without problem.
Whereas 'cheap' earbuds have just the wiring to a simple speaker this offering from Sol Republic has a sound engine called the i2 its purpose is to give you a good sound from bass up to the high notes.
These are not cheap but you will hear the quality of sound and they even provide an amount of noise reduction as the buds fit firmly in the ear canal so a good amount of traffic noise is excluded but not to the point of being dangerous so you do not fail to hear car horns etc.
The Sol Republic JAX are available from the link below for £34.99 with free delivery.
http://www.amazon.co.uk/gp/product/B00CAB629K?ie=UTF8&tag=gadge0a-21&linkCode=as2&camp=1634