Games from Drummond Park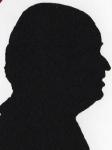 Here I am looking at a board game that has had several incarnations over the years it is suitable for 8-88 years olds. Second a game – also a reincarnation – suitable for the same age groups but I think far younger will enjoy the 'dough'.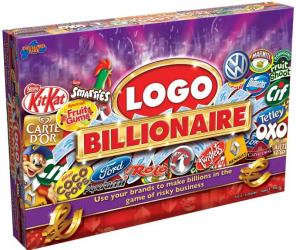 click image to enlarge
Logo Billionaire
This is a game where you are a high powered corporate trader. There are two versions of this game Apprentice and Executive. The Apprentice is of course the more basic version.
The object of the basic version is to form companies and then sell them and also trade brands to other players the object is to reach a Billion.
The Executive game adds takeovers and that allows more strategy.
It is played on a 45cm round board that has a total of 24 squares around the outside. Playing pieces, cards and money are all provided as well as the all important rules for both versions.
This game is more likely to appeal to older children and adults. Certainly people playing need to read the rules before they can get a decent idea of what they are trying to achieve.
While you need to take risks to win it is perhaps like life you will never make fortune unless you take risks, the skill is to try to judge what is a good risk and what is a bad risk, of course what is a risky risk produces the biggest possibility of being the overall winner.
Logo Billionaire is available from the link below for £20 with free delivery.
http://www.amazon.co.uk/gp/product/B00CPN0TUQ?ie=UTF8&tag=gadge0a-21&linkCode=as2&camp=1634
Rapidough
The box has a punch line saying 'guess too slow and you lose some dough' The dough in question is not cash but very like playdough.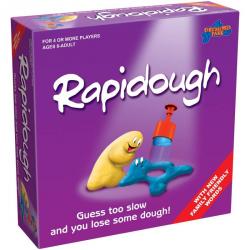 click image to enlarge
Some artistic talent is an advantage in this game where a player from each of two two teams have to model an object as outlined on a card.
The contents of the box are two containers of modelling dough, two modelling mats, two modelling tools – like blunt plastic knives -, two dough plugging tools and 300 word cards.
You need at least four players for two teams of two but far more can play and it can be great at parties where children are involved.
Six sides on a folded piece of A4 make up the rules.
There are three types of word cards first a single word where both modellers – one from each team – have to make the same item, second a card with two words with the background corresponding to the team colours and third cards with three words and the modellers can choose the same or different words to model.
This is easier to play than describe but the people – or varying ages – which have played this have all seemed happy with it.
The most important person is perhaps the one designated as the modeller on each team as making a model out of the putty type substance is not that easy.
A few words about the two card option the words chosen are also of like objects, the example given in the rule sheet are octopus and bagpipes.
Rapidough is available from the link below for £24.99 with free delivery.
http://www.amazon.co.uk/gp/product/B00CPN0TTM?ie=UTF8&tag=gadge0a-21&linkCode=as2&camp=1634