Mystery, Mystery, Mystery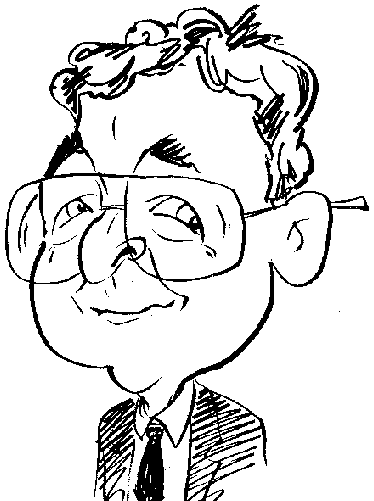 Put on your investigative hat and be prepared to enter the world of the supernatural as you take on the challenge of three Big Fish games.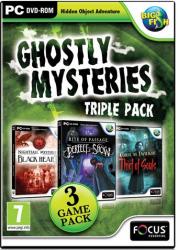 click image to enlarge
As the title of this next product indicates, Ghostly Mysteries Triple Pack consists of three offerings that have more than a touch of supernatural influence in their content. Originally published by Big Fish Games, these titles are Nightfall Mysteries Black Heart, Rite of Passage Perfect Show and Curse at Twilight Thief of souls. The ghostly trio is now available from Focus Multimedia at the attractive price point of £10.20.
Each of these ghostly mysteries needs to be installed separately from the same front-end. The games, which are not linked in any way apart from the supernatural aspect, can be played in any order depending upon your personal preference. I opted to play the games in the order they were displayed on the packaging. Black Heart is one of those annoying titles that delays the appearance of its main title screen by inserting a "Click to continue" screen and then follows it up with a sequence involving the reading of a letter which set the scene for that is to follow. Fortunately you can click on a Skip option to save having to sit through this sequence every time the game is loaded.
Several options are available from the main title screen. You can adjust the volume level for background music, sound effects and the spoken dialogue. Full and wide screen options are available and the game can be played in a choice of three difficulty levels with settings that included faster recharge, helpful sparkles or no help whatsoever as you opt for Casual, Advanced or Expert mode.
Your role in the game is to come to the aid of your friend Christine whose boyfriend is being held captive by the evil Vansig family at Blackhill Manor. Following the normal pattern of Hidden Object Adventure style of game play, Black Heart combines a mixture of exploring the interior and exterior of Blackhill Manor with innovative puzzles and Hidden Object scenes. The game also features a series of audio tapes which need to be located and played to introduce additional information into the game.
In full screen Adventure mode, various items of useful tools, running across the bottom of the screen, will be available. On the left is your journal which initially just records any clues that have been discovered but later will have sections for a map and the audio tapes. The map is the type that shows the layout of the various areas with an indication as to the location of available tasks to be completed. This map does not have the ability to transport you between locations. You can access and play back any audio tape you have found from the appropriate section of the journal. An inventory bar, which pops up when touched by the cursor, takes up a central position at the bottom of the screen. The Hint feature is located in the lower right corner.
As you travel between the various locations you will encounter outbreaks of sparkles that indicate there is a Hidden Object scene. Some of the listed items will be coloured red or yellow to indicate that some type of task will be required in order to reveal or create a missing item. One of the listed items will be your reward for completing the scene.
Along with numerous puzzles that offer a Skip option if any prove too difficulty, there are linking sequences involving a static character delivering dialogue. You will need to click through each portion of dialogue as you cannot skip these interludes. The dialogue is delivered without any sign of lip movement.
In the Perfect Show you take on the role of a piano teacher working in the town of Everlake. As with Black Heart, there is an opening sequence which runs every time the game is started. Fortunately a Skip option allows you to move straight on the game's main title screen allowing you to play the game in either Casual or Expert mode.
In your designated role, you are proud of never being late for a lesson – that is until now. The first time you are late then one of your pupils, Amber by name, is abducted and joins several other children who have mysteriously disappeared from the town of Everlake. It is up to you to solve the mystery and rescue the children in this Hidden Object Adventure game.
Although there is an option for full screen mode, this does not stretch to widescreen with the result that black bands run down either side of the various scenes. The game follows the fairly usual mix of moving backwards and forwards between locations as you collect objects, solve puzzles and complete Hidden Object sessions. Whether examining a particular area or a Hidden Object scene, you will need to work in an overlaid window.
Often objects will need to be moved aside before you can claim an addition to your inventory which hides itself away at the bottom of the screen. Positioned either side of the inventory are your journal on the right and rechargeable Hint feature on the left.
The puzzles and Hidden Object scenes were far more challenging than those in Black Heart. I was definitely tempted to make more use of the Skip or Hint features. Part of the difficulties I encountered with the puzzles was the inadequate instructions that were provided. It was almost a puzzle in itself to work out was required for some puzzles.
As with Black Heart, all the dialogue in this game is delivered vocally. However with Perfect Show, the various characters are animated video overlays which are reasonably impressive. You will need to click through each portion of dialogue.
Thief of Souls also has an opening sequence with well delivered dialogue. However, rather than place this sequence before the main title screen, it comes after and is only run the first time a player starts the game which is a far better approach.
Thief of Souls can be played in either Casual or Hard mode with the former providing a faster recharge of the Hint feature and helpful sparkles to identify points of interest. Your role in the game is that of Isabelle Brisbane who has received an invite to join Lord and Lady Hamilton for an event at Darkfall Manor, a location that has been previously abandoned for a number of years. Never the one to pass up an interesting invitation, especially from those with a title, you arrive at the Manor to find it locked up and apparently deserted. Thus the adventure begins.
Your full screen view of the atmospheric scenery is overlaid at the top and bottom with information and access to features. The name of your current location will be displayed at the top of the screen along with the number of tasks remaining and the number of coins that have been concealed in that scene. Once all the coins in a particular scene are found then you will be able to immediately return to that location by using a map feature.
The map feature, actually a collection of thumbnails for each location where all the coins have been found, is positioned in the lower left corner. A rechargeable Hint feature is in the lower right corner. Separating these two items is a tabbed panel that can switch between showing your inventory, goals and objects. This last item is concerned with many of the objects you need to collect. Rather than just allowing you to pick up an object, this game often requires you to find the individual pieces into which it has been broken. These pieces are shown in the Objects section and are crossed out as each one is located.
Hidden Object scenes are shown in full screen mode and contain a mixture of items that are immediately collectable and those that need an action to be performed before becoming available. While the puzzles featured in this game are innovative, they are not particularly challenging. They will make you think but not for too long. As with Black Heart, the linking sequences found in this game contain spoken dialogue with static characters.
You certainly get value for money with this combination of titles in Ghostly Mysteries Triple Pack. There are one or two minor annoyances but otherwise this collection will keep you playing for many long hours as you solve the mysteries that are seeped in the supernatural. You will need a 1.4GHz processor, 1024MB of RAM, 779MB of hard disk space running Windows XP and later. As mentioned earlier this package is attractively priced at £10.20.
http://focusmm.co.uk/shop/Ghostly-Mysteries-Triple-Pack-Nightfall-Mysteries-Rite-of-Passage-and-Curse-at-Twilight-pr-1975.html