A Predator Speaker System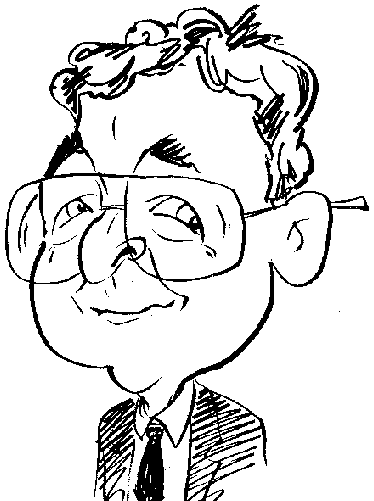 Often it is easy to recognise an Edifier speaker system just by looking at its usual design concept.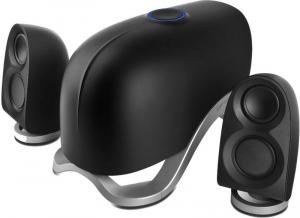 click image to enlarge
I know I am guilty of repeating myself but it has to be said that the company Edifier has never been constrained by the usual conventions when it comes to the design and shape of its various speaker systems. In the past I have set up and checked out Edifier systems that have been based on a cylindrical, spherical, decapitated pyramid and the large one-eyed monopod unit shape. Now with the latest 2.1 speaker system, entitled Predator, Edifier does not disappoint when it comes to the design concept of the subwoofer and pair of satellite speakers.
While I might balk a little at the finger smear attracting lacquered black coating of both the subwoofer and two satellites, even if you do get a small cleaning cloth to remove the worst of the smears, the Star Wars type helmet styling of the three units certainly has a visual appeal that will suit many. I suppose if push comes to shove I could always regard the occasional finger smear as a necessary evil.
The central subwoofer unit, which could almost double for an American footballer's helmet that is permanently attached to a matte silver mounting stand so that it could be used as an award, has dimensions of 186 x 196 x 278 mm (W x H x D). Mini helmet style in appearance, the two satellite speakers have dimensions of 85 x 172 x 94 m (W x H x D) as they sit either side of the subwoofer.
The impressive looking subwoofer has a 5-inch magnetically shielded driver positioned on the base of the unit with the permanently attached stand module providing a gap between the subwoofer and the floor for the audio output to escape. In a central position on top of the subwoofer is the master volume level and on/off control. This adopts an iPod wheel style. Once power is turned on with a clockwise movement, a blue light ring encircles this control wheel so that you are well aware as to the current status of the device.
Located at the rear of the subwoofer, actually where the face would be if this was a helmet, are three connection sockets plus a bulging bass level control wheel. Arranged from the top downwards are the sockets for attaching the mains power lead, AUX input and the connection for satellite speakers. The AUX input socket has the same colour as the supplied audio cable, to ensure you do not insert this lead in the wrong socket.
The two mini-helmet styled satellite speakers are each mounted on matte silver circular stands that present each speaker at a slight backwards inclining angle for enhanced sound projection. Each satellite has a front-mounted 2-inch full-range magnetically shielded driver and a 2-inch passive radiator. The satellites are permanently linked to each other by a double stranded lead that allows each satellite to be positioned up to 138 cm from the subwoofer.
Setting up this 2.1 speaker system is straightforward although you do need to ensure the subwoofer is sited within a range of 145 cm from a power source due to the length of power lead provided with this product. The Edifier Predator will work with any audio source device, whether a tablet, mobile phone, MP3 player, a member of the iPod family or computer, as long as it has a 3.5 mm jack output socket. Edifier includes a 160 cm audio lead with green encased jack plugs to help ensure you insert it into the correct socket when linking your chosen device.
Audio output is good enough for most situations with both volume and bass level adjustment controls. This speaker system will not look out of place in an office or home environment when providing your audio entertainment needs. The Edifier Predator will be available from Currys/PC World and other leading retailers at a price of £59.99.
http://www.edifier-international.com/products/edifier-image/predator