Edifer Image and iBox Twist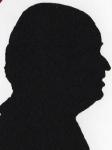 Both these items are portable speakers, both and single pieces. The first from Edifer 'Image' charges from USB but can be used away from power. The second from a new name to me i-Box 'Twist' is a portable Bluetooth speaker.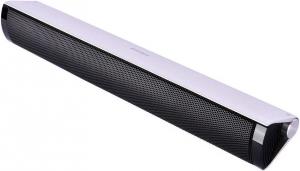 click image to enlarge
Edifer Image
It is triangular like a wedge 26cm long 5.5cm deep and 4cm tall. It weights 321grams. On the left edge is where you connect the supplied .8metre 3.5mm lead. Just below this is where the supplied micro USB to USB lead for charging the unit is attached, this is .75metre.
You will probably need to study the getting started leaflet to work out how to switch it on. There is a circular button at either end which reduce or increase the volume. You need to press them both at the same time to switch on.
To be fair there is a diagram printed on the base of the unit that says on is +volume+-volume all clear when you know.
There are two rubber feet 3x.5cm on the base so the metal casing cannot scratch any polished surface you place it on.
There are in fact five speakers in a row behind the mesh grill that runs all along the front of the unit. I used it with a range of devices and found the sound quality pleasing with a good range of depth considering its small size.
I got close to a working day of continuous listening from a single charge using a range of items from iPod, MP3 and even a notebook. I was most impressed with the oval bass radiator 30x90mm which impressed overall.
The Edifer Image MP250Plus is available from the link below for £28.96 with free delivery.
http://www.amazon.co.uk/gp/product/B0070TH6L0?ie=UTF8&tag=gadge0a-21&linkCode=as2&camp=1634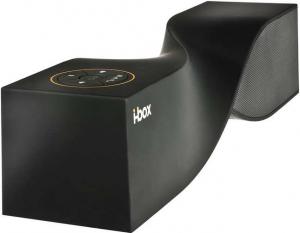 click image to enlarge
i-Box Twist
It is 24.5cm long and the ends are square at 5.5cm but like wringing out some washing it twists 90degrees in the centre, I understand that's called style, this is something that all my life I have managed to live without but it looks good.
The base has two slightly gripy feet .8x5cm. The back has an on-off slider, mini USB connection for charging and a 3.5mm socket should you prefer to connect directly rather than use the supplied Bluetooth option.
The top has the ubiquitous five position well marked joystick control that will as soon as you switch on start searching for Bluetooth the four side User Guide explains how to change from Bluetooth to using connected mode.
For those who prefer to leave their smartphone firmly in their pocket this unit has an option to answer calls and also the required microphone built in beside the joystick control so you can have a hands free phone conversation.
The right half of the face of the unit is the speaker grill and the built in passive sub woofer outputs at the rear. The speakers are 3watts and give a decent sound.
A full charge took around 140 minutes from total discharge and using Bluetooth I got just under five hours between charges. This figure does of course have a decent uplift – near double - when you connect using a 3.5mm lead.
The i-box Twist is available from the link below for £58.86 with free delivery.
http://www.amazon.co.uk/gp/product/B00A37UEOC?ie=UTF8&tag=gadge0a-21&linkCode=as2&camp=1634