Small Otone Speakers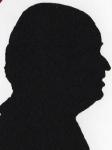 Review controls
One of the discoveries I made at the Gadget Show is a company with a range of speakers otoneaudio.co.uk I have started by looking at their two smallest offerings the Aporto and the Avcento, both give good quality output.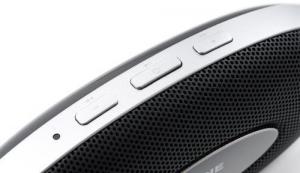 click image to enlarge
Accento
This is the smaller of the two and has a solid battery that enables you to play output from any device that has a 3.5mm socket.
It is 17.5x6x4.5cm and weights xxxgrams. The 17.5cm length will increase by 5cm when you have 3.5mm jack in the left of the unit and USB cable in the right of the unit. Both are supplied but the USB cable is only required whilst charging the battery. From complete discharge this takes around 90 minutes when it is not in use.
The controls consist of three bar buttons on top of the unit as well as an LED. The LED shows green when charged, red whilst charging and can also flash red/green or red/amber dependant on state, all is explained in User Manual.
However this is also an MP3 player as it has a slot in the base for a micro SD card. So far from being just a pair of small but powerful speakers it can also be a self contained MP3 player hence the initial size and weight.
The LED mentioned above then takes on a different job becoming an indicator for MP3 playback. All this is explained in the small but readable eight sided manual. Even though this is a single unit it does give stereo as it has two 3watt speakers. Powering an iPod or external MP3 player the sound is improved from that available natively.
While the unit is connected it can be used to transfer files to and from the micro SD card so it can be storage medium, useful if your PC does not have a micro SD port array. One point – it is mentioned in the manual – but it is easy to forget the internal storage will always be unavailable if you have a 3.5mm jack inserted in the unit.
A lovely small unit small enough to fit in any pocket or purse and with a six hour life between charges a useful small speaker system The Otone Accento is available from the link below for £22.99
http://www.amazon.co.uk/gp/product/B007L1PRMC?ie=UTF8&tag=gadge0a-21&linkCode=as2&camp=1634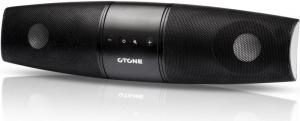 click image to enlarge
Aporto
This looks to a long sort of oval single unit and indeed it can be used as a single unit. However both ends disconnect individually from the central connection to give two upright speakers connected by an expanding connection to the central part that holds the controls and connections, so it is possible to get real width on your stereo.
It is 28.5x7x7cm with a 3.5jack plug inserted in the rear. Each speaker is 11.5cm tall when broken apart and stands on itself with a 7cm across oval base. Each speaker can be up to 66cm from the middle control unit, as the lead is spring loaded it rewinds when a slight pull on it is exerted. The same applies to the supplied 3.5mm jack extender lead.
The central 5.5cm portion has a small pull out balance at the rear to allow the four control buttons on the front to be available. These are volume '-', power on/off, mute and finally volume '+'. The rear has two inputs the 3.5mm jack lead to allow connection from anything from an iPod or MP3 player to even a PC should you wish. The second connection is a mini USB to power the unit. However if you pull the right speaker off the main unit and a door allows you to power it from 4x'AAA' batteries, giving the option to use without mains power.
The Otone Aporto has two three watt speakers and a good sound – certainly enough to fill a normal room – emerges. Because the speakers can be separated by around 1.4metres good distance and direction can be achieved from them. The full range can be seen here. http://www.otoneaudio.co.uk/
The Otone Aporto can be purchased from the link below for £26.99.
http://www.amazon.co.uk/gp/product/B007L1HMNY?ie=UTF8&tag=gadge0a-21&linkCode=as2&camp=1634