Toys & Games 13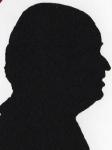 Little did I think three months ago that this feature would run to thirteen parts? First something large – not costing a fortune – and second something rather small that you will see all over London in 2012 transport with the Olympic logo.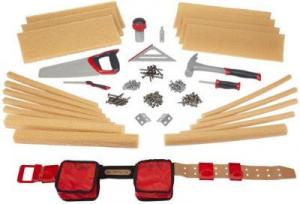 click image to enlarge
Real Construction Deluxe Workshop
Fancy letting your six year old loose with saws, hammer and nails? No nor would I, but here it is reasonably safe and the wood provided is made of expanded polystyrene (like the packing round almost any product you buy) but brown instead of white and grained so it looks like wood. The saw has plastic teeth and when I ran it over my hand I did not even graze my skin. Perhaps another important fact there is no saw dust when the material is cut.
The box has more than 125 pieces in its 59x30x9cm size and has a carry handle on the top the total weight of everything is 873grams. So even a young child can carry it around and start to create things. There are plans for eight items but a slightly older child can imagine anything and build that from the design inside their heads.
You get a hand saw, a detail saw, hammer, screwdriver, square, a pair of hinges, 50 plastic nails, 50 plastic screws, a hole cutter handle with two bores and finally nineteen pieces of foam in various sizes and thicknesses.
Perhaps best of all items can be disassembled as well as assembled so within reason everything is usable again and again.
I can just about remember being six or so and the most exciting present was always the largest one so this will please.
Real Construction Deluxe Workshop is available from Amazon for £24.99.
The Real Construction Toys website include more details along with a video.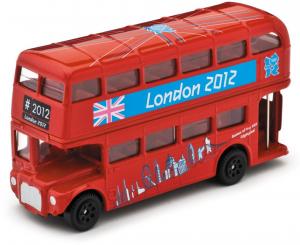 click image to enlarge
Corgi Great British Classics
The set consists of a Bus, Taxi, Mini and Concodre, each is available separately.
The Bus is of course a route master double decker 11.5x6x3cm which has the iconic open platform at the back, this in itself is a collectors item but with the London 2012 logo on the side and on the packaging makes it collectable.
The black cab (taxi) is 11.5x6x4.5 and has the logo its roof and bonnet as well as big ben, the wheel, tower bridge and the gherkin on its sides.
The mini is 8x3.5x3.5cm with the union jack on its bonnet and roof and London 2012 on the roof as well with the 2012 logo on its sides together with the union jack.
Concorde is 18x7x2cm and has the union jack across both wings with London 2012 and XXX Olympic Games along the top with the Olympic logo on both sides of its tail.
I was also sent a London 2012 keyring with a black cab attached with the union jack and London 2012 on its roof and the Olympic logo on its bonnet.
All the items are die cast and the boxing for the Bus, Taxi, Mini and Concorde are all identical colours and style.
The bus, taxi, Mini and Concorde are each available separately for prices between £8.58 and £9.99 from Amazon, including free delivery.
Details are are available from the Corgi web-site.