Toys & Games 12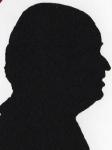 Review controls
First a toy for the pre school child that is very clever and will help the child to recognise letters and even three letter words, the letters are magnetic hence Fridge Words. Second a game for two teams of two or more Best of British.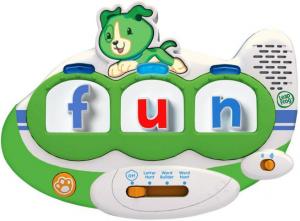 click image to enlarge
Fridge Words
Here a toy for a younger child that even three has a great Edutainment use. It uses large letters that fit into a pod and as they are inserted the letter is spelt out, it claims that over 250 three letter words can be produced and there are three games included to make spelling fun.
It is 23x15x4cm and joy of joys it comes with the required batteries installed. Each letter is 4.5x3.5x2cm; all letter surrounds are identical and with the rounded top will only fit one way. One small error in the eight sides of the manual is that it states every letter of the alphabet is included with an extra 'd' 'e' and 'm'. The set I had did not have a 'q' or a 'u' but had an extra 'b' and 'n'. I can understand not including a 'q' but surely a 'u' is important as a vowel.
It would be nice to have somewhere to put the letters when not in use even a small fabric bag as the box is a plastic sleeve inside cardboard that is not substantial and will not hold anything once opened.
A button on the left will play an alphabet song, when the slider is moved from off LEDs above the three letter spaces light up and with the easiest game 'Load a Letter' is selected that letter is said by a female voice (two volume settings).
The next game is 'Word Builder' that is perhaps the hardest as whatever the child places in spot on determines the word that follows, mind you if the word is not recognised the sounds are still made by the voice and then she says 'that sounds great'.
The final game is 'Word Hunt' and the child will need to recognise the letters as the word to be built is decided by the voice, this is where having 29 letters scattered over the floor makes finding one special letter difficult.
Overall this is a brilliant toy that should help the child to recognise letters and even begin to spell. Fridge Words is available from the link below for £19.72 with free delivery
http://www.amazon.co.uk/gp/product/B0002SC7CE?ie=UTF8&tag=gadge0a-21&linkCode=as2&camp=163
http://www.leapfrog.com/en_gb/infant_and_toddler/Scout_Fridge_Words.html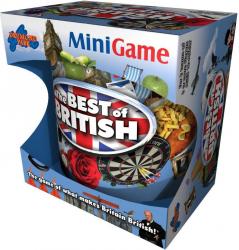 click image to enlarge
Best of British
This is a mini game as the whole thing, board, playing cards and tokens all fit into 14x13x9cm box ideal for wet days but while it is stated to be for '12 to Adult' I suspect it will be the latter group that will enjoy and use it most.
The questions asked are on cards and which you get depends on what colour square you are on (red, green, blue or white). Some questions will favour younger people others – from the same card – will favour older players, hence the need for teams.
So this is really a sort of trivial pursuit type game but instead of a single subject everything here is general knowledge.
If you enjoy the mini game then you might like to go for the larger one that has far more questions and customised rules. This is perhaps a good idea as you pay only a small price for the mini game to see if you enjoy it.
The Best of British mini game is available from the link below for £4.99 with free delivery. The full size game is £25.45 with free delivery from the second link.
http://www.amazon.co.uk/gp/product/B0049MPE0G?ie=UTF8&tag=gadge0a-21&linkCode=as2&camp=1634
http://www.amazon.co.uk/gp/product/B003NUJTME?ie=UTF8&tag=gadge0a-21&linkCode=as2&camp=1634