Speakers or Headphones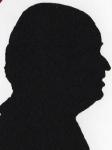 First a rather fine set of upside down torch like speakers together with a beefy sub woofer from Altec Lansing. Second a rather beautiful set of Digitally Enhanced Audio Headphones from Plantronics.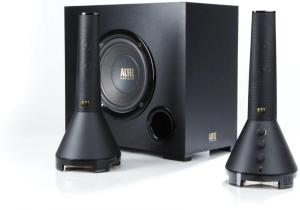 click image to enlarge
Altec Lansing VS4621 Speakers
These consist of a sub woofer and a pair of speakers that look like quite large torches, the difference is that the larger ends go down and get added resonance out of whatever surface you place them of, a wonderful design.
The speakers are 27cm tall and 11cm across at the base but little more than 4cm at the top, the sound comes not only from underneath but also all along the front of the units. There is a single lead from the left speaker going into the sub woofer. The right unit also has volume, treble and bass buttons as well as an 'Aux' socket as well as an orange LED when power is received. The speakers are various shades of black dependant on which part.
The sub woofer is 31x16x28cm and of course is made of black stained wood. The 2 metre mains lead is hard wired into the back of the sub woofer and two totally different plugs go on 2.5metre leads to the left and right side speakers. This means that there is no way the wrong speaker can be plugged into the wrong socket on the sub woofer. These leads are hard wired into the two speakers; this means that you can get a near 5metre spread, surely big enough for most rooms, in practice somewhat less as the sub woofer will be on the floor.
When you open the box wiring up instructions are shown on the lid flap in diagram form, all you will surely need apart from the 2metre 3.5mm jack to 3.5mm jack lead so you can connect anything to the speaker system with a 3.5mm socket.
I was curious why there was a booklet wrapped separately and you have guessed it a whole book for safety instructions and warranty information. I have written and rewritten this sentence several times, health and safety!!!!
A nice full sound even from a small MP3 player and enough bass for even the most bass friendly person to OD on.
The Altec Lansing VS4621 speakers are available from the first link below for £51.86 including delivery.
http://www.amazon.co.uk/gp/product/B0038W0NEU?ie=UTF8&tag=gadge0a-21&linkCode=as2&camp=1634
http://www.alteclansing.com/index.php?file=north_product_detail&iproduct_id=octane_7
Plantronics Audio 646 DSP
These are designed not only for music and gaming but also for voice as they are optimised for use with Skype.
They are designed to fit behind your head and just rest onto the ears so unless you have music playing through them at high volume you should still be able to hear some peripheral noise from your surroundings.
For anyone of more than a few years 'computer experience' setting up audio devices never used to be easy as when you had more than one device installed there were conflicts. Here you just plug the USB lead in see four brief messages in the tray and as the third appears you hear a sound through the headphones rather than your speakers.
I tested the microphone that sits along your right cheek first using Sound Recorder and was surprised with the quality but any file you save will be around 2500MB a minute. Still when talking on Skype you are not saving the sound and everyone I spoke with was quite happy with the quality it produced.
In the item above I had my moan about 'health and safety' why don't they ban packaging that requires industrial scissors to get at the contents as with these, oh of course that would be useful silly me.
Doing my Internet searches found the Plantronics Audio 646 DSP at a best price of £26.44 from link below.
http://www.amazon.co.uk/gp/product/B003CNJRAG?ie=UTF8&tag=gadge0a-21&linkCode=as2&camp=1634
http://press.plantronics.com/europe_english/plantronics-launches-four-digitally-enhanced-pc-headsets-for-multimedia-and-voice-applications/