Noise Reducing Earbuds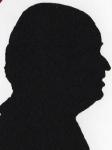 Here I am looking at two pairs of noise reducing earbuds, the first from Ultimate Ears and the second from Sennheiser. They have a number of things in common; the main one is that both reduce external noise so great for the train or tube.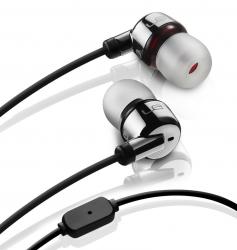 click image to enlarge
Ultimate Ears MetroFi 220vi
Not a name that immediately rolls off the tongue. From the buds back there is 35cm of single cable before it joins with the two sleeved together for the final 80cm to the gold plated 3.5mm plug that not only suits iPods and MP3 players but also the latest Apple offerings as it has three bands rather than the normal two. The multifunction button (allowing you to answer calls etc) is 7cm after the two leads have become one on the cable.
Most earbuds have an L or R to denote which ear, here you have a small red ring (hard to see in certain light) around the right earbud. The buds are silicon and come in three sizes (all supplied) so you should find a good fit.
The earbuds can be worn either as an immediate drop from the ear or taken over the ear and dropped behind whichever you find more comfortable.
The pack (remarkably) does not require industrial scissors to get the product out but once out you are unlikely to carry them around in it at it is designed for display on the dealers shelves. However a small 7x5x2cm flip case is supplied and this should protect the buds in a pocket or purse.
Good quality sound and the noise deadening reduces external noise by around 60% allowing you to listen to your music at a reasonable level and therefore as you do not have volume up too high you do not annoy others.
Doing my Internet searches found the Ultimate Ears MetroFi 220vi at a best price of £45.03 from the first link below.
http://www.amazon.co.uk/gp/product/B001TDKHSW?ie=UTF8&tag=gadge0a-21&linkCode=as2&camp=1634
http://www.logitech.com/index.cfm/speakers_audio/earphones/devices/5652&cl=gb,en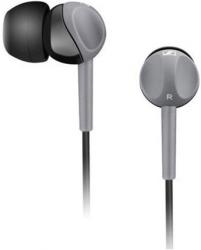 click image to enlarge
Sennheiser Street II Comfort Fit
This time the industrial scissors are required but cutting along the top and left side should just about allow you to keep the packaging together.
37cm of single leads from the earbuds till they join together and then 90cm to the gold plated (two band) plug.
Again these are noise reducing and in my unscientific tests they seem to reduce noise slightly more than the Ultimate Ears MetroFi 220vi product. Again three sets (small, medium or large) earbuds in silicon are provided.
Sennheiser say these are entry level and as such there is no multifunction button, so you will just have to remove one bud to answer your phone. Having two bands rather than three probably mean certain advanced Apple kit will not work with them either.
I wore these on alternate days (when out and about) with the item above and while both were effective I preferred the Comfort Fit slightly, mainly when on public transport and the noise reduction was required. I used them both with iPod and MP3 player and found little to choose between sound quality of either of the units.
Doing my Internet searches found the Sennheiser Street II Comfort Fit at a best price of £14.75 including free delivery the first link below.
http://www.amazon.co.uk/gp/product/B001EZUQ5E?ie=UTF8&tag=gadge0a-21&linkCode=as2&camp=1634
http://www.sennheiser.co.uk/uk/home_en.nsf/root/private_headphones_street-line_502544