Christmas Is Coming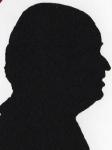 Review controls
Brace yourself – ready or not – Christmas is not that far away. Here two items for the kids and no doubt the best way to cope is a little at a time. First a tradition Jigsaw from Ravensburger and second a new twist on the Rubik's Cube.
Santa's Christmas Supper
This is apparently the twelfth limited edition puzzle produced by Ravensburger. I cannot talk about any of the first eleven as I have not seen them. This is a delightful puzzle of 1000 pieces and for me anyway quite difficult because of the amount of snow.
It is created from an original watercolour painting by Roy Trower who studied graphic art at Norwich and graduated in 1984.
It is one of Ravensburgers Premium Puzzles featuring their softclick technology. It is almost 50x70cm and for me anyway it took around a week to finish in a range of varying length sessions.
Santa his sleight with reindeer a couple of horses in an adjoining field and a village snow scene made complete by an assortment of animals and birds (the feathered kind) make this a delightful image for all to admire.
The only warning on the box is 'not for under 36 months' and that because of the size of pieces. I suspect that it will be adults doing something like this and it may be a present for an aunt or uncle whom are old enough to remember this sort of scene.
Doing my Internet searches found the Ravensburger Limited Edition 'Santa's Christmas Supper' at a best price of £9.99 including free delivery from the first link below.
http://www.amazon.co.uk/gp/product/B002GIWIZY?ie=UTF8&tag=gadge0a-21&linkCode=as2&camp=1634
Rubik's 360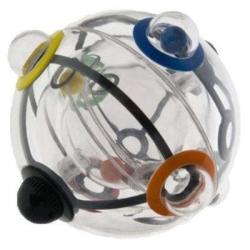 click image to enlarge
From the designer of the Rubik cube comes Rubik's 360. This a ball with a number of small balls inside that you need to get in position around the inside of the outer case. It is all down to dexterity and therefore the best at it are likely to be the young.
I remember meeting a young man (or rather I remember his handshake) a while ago who was a champion at the Rubik cube. This summer I met a young lady who I am told would be competing at the world championships for the Rubik 360. She had only had the device a matter of weeks and already she had very strong wrists as you control the unit by turning knobs on the ends of it.
In detail you have three circular spheres all six coloured balls are in the inner sphere and there is only a single hole that lets them escape into the middle sphere. Now the second sphere has two holes and you need to get the balls from this into the outer sphere.
Next the really difficult bit, the outer sphere has six domes (each colour coded) and you need to twist and persuade each ball to its own dome. Of course one should be easy but only once it is there do you realise that there are only the controls on the end to keep it there while you work on getting number two in position.
I saw the aforementioned young lady get three in position very quickly (several weeks of practice) but then with the pressure of an audience things got hard. She has to learn to cope with the audience as well as the Rubik 360.
The object is to get all six in position with the aid of the black plastic bars that twist this way and that but or course certain movements will uncover a hole and then if the ball itself is at the wrong angle then another ball may escape. Gravity is your major enemy and in a few cases it may be your savoir.
Available from the first link below at £14.99 including delivery. Already it is predicted to be a top seller.
http://www.amazon.co.uk/gp/product/B001VEIXMG?ie=UTF8&tag=gadge0a-21&linkCode=as2&camp=1634