Gear4 House Party 4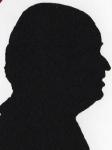 Review controls
This is an iPod dock with speakers behind. It is of course also able to play MP3 files from an MP3 player and it also has an FM radio. So far it has refused to do the washing up, the vacuuming or even the dusting.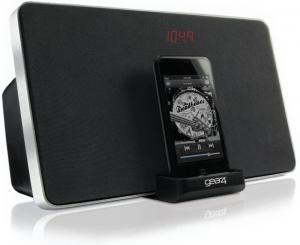 click image to enlarge
It is 27x13x13cm however the last figure the width can be as little as 4.5cm at the top. There is a small section towards the top of the black fabric that allows a red LED screen to show through this says which mode you are in. Aux, FM or iPod. If you insert an iPod into the dock it automatically charges it and if you were listening to the radio it changes to the iPod. You then have to press a button to return to the radio.
It comes with a range of dock adapters so that most iPods should fit in the dock. All the controls on the unit are in a single line of six touch buttons highlighted in blue behind the top lip of the unit.
On/off, mode, back a track, forward a track, volume down and volume up. There is of course a remote control but it can be controlled totally from the unit itself. There is a tiny 11x7cm user manual with seven pages in English this describes the controls on the unit with words and an illustration and the same for the remote control. However the connections at the back receive no such recognition.
They are the DC input, Auxiliary input and the outlet for the wire FM aerial. If you just have the DC input and the wire aerial it is possible to just about exit them through a small hole in the provided push on cover but as this is only 2.5cm from the sockets and most plugs are at least that once you plug in an Aux one it needs to be detached. Either design it differently, allowing more room, or provide an Auxiliary lead (none supplied) with a smaller length of plug.
Sound quality was good but whatever volume you leave it last at when you next turn on it restarts at 8 and considering it goes up to 40 this is really quiet. While 40 for most is rather too loud 8 is certainly very low. This can be somewhat annoying to have to immediately turn it up by around 50% to hear normal music or speech it would be nice to have a choice of starting volume.
Having said it can be controlled from the unit. The remote allows you to perform certain things that cannot be done from the unit. For example setting EQ mode, off, pop, rock, jazz, classic, bass and flat. Without recourse to the remote you are left in flat mode and once powered off it will revert to this so the setting needs to be made each time. However if you leave it in standby the EQ (and volume setting) are remembered.
In these days when we all need to conserve power I do not think leaving something in standby (unless necessary such as a PVR) is a good thing and this will be marked accordingly in the Environment section.
Incorporating a small battery in the unit should remember previous settings and while standby mode probably uses only a tiny amount of power in this case I have no doubt that any government serious about climate change will outlaw such devices in the years to come. Off should mean off and not just a reduction of power usage by turning off the outward signs of power.
The all black material on the face looks neat and the silver sides might make it acceptable to the lounge police. For a small unit sound quality for iPod and MP3 players was good and there was certainly plenty of volume. The quality of radio was variable dependant on where the unit was placed and perhaps more on where the 1.3metre long wire aerial was located.
All my moans could be negated by a small internal rechargeable battery and therefore it becomes kinder to the environment of course removing the remote would save more money for the manufacturer then a way of muting the unit and changing the EQ settings would have to be found on the unit.
Nice sound but I have the stated concerns about standby mode.
The price, from Gear4's own shop, is £69.99, although it's better value at Amazon where the HouseParty 4 is available for £60.43, including shipping (check the Amazon price though - the headline price from one of their partners is £160+):
http://www.amazon.co.uk/gp/offer-listing/B0018DKQWK?condition=new
The price from Amazon is available for €100,80, including shipping on the following link :
http://www.amazon.fr/gp/product/B0018DKQWK?ie=UTF8&tag=gadge04-21&linkCode=as2&camp=1642