Vuzix iWear AV920

Published Dec 7, 2008 Author
petew
Review controls
Video glasses for your iPod or other video player with good battery live and that can also show 3D content. A great idea for watching your video in bed or on the move.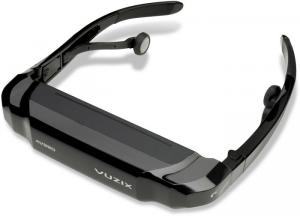 click image to enlarge
Vuzix have a history in developing audio-visual eye-wear for military and medical applications. With the AV920 they bring their expertise to bear on the burgeoning consumer portable video market in the form of a set of video glasses. The AV920 a stereoscopic headset that focusses an image on each eye. The effect is that of 62" screen - very impressive.
Initially the sensation feels a little weird, but after a few minutes watching your head adjusts readily to the concept and the rest of the world tends to fade out. The effect is a completely immersive experience. The biggest shock is when you take them off and the real world floods back.
The image is created by two separate 640x480 resolution LCD screens, one for each eye. Part of the beauty of this is that the Vuzix can actually send a different image to each eye. Why? To reproduce 3D images. I only had a short demo 3D video but the results were impressive. This is of course something of a niche feature without the general availability of 3D encoded video.
I've used several similar products from other manufacturers. The AV920 weighs about the same as those products although in the case of this product the weight seems to be more positioned to the front of the glasses, which stick out quite a way from your face. I found this to be the main problem with glasses. This front loading on the weight tended to weigh down the glasses. A number of adjustments are possible to get them to sit high enough on your face. In my case I found I had to heavily push down the nose-bridge.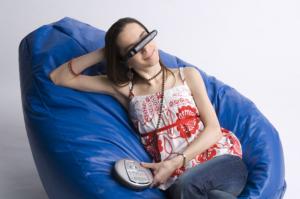 click image to enlarge
The Vuzix AV920 comes with integrated tiny speakers. The intent of these is not to sit in your ear but rather be close enough to your ear for comfortable listenning. I found this somewhat awkward, despite the flexible, adjustable arms for those speakers. I'm also a little fussy about ear plugs. One of my favourite features of the AV920 is the ability to side out the speakers (each on a tiny connector) and instead use your own preferred head set, which plugs in to the battery pack.
A single control underneath the right-hand eye piece gives access to a comprehensive on-screen menu that allows you to adjust rightness, contrast and volume and also allows you to select an appropriate 3D mode should that be required.
Power for device comes from a Lithium-Ion battery that is charged by a standard USB connector. A suitable power supply is included with the product, or you can charge from your computer. A full charge is stated to last around five hours of use, which happens to match playback time for video from a fully charged iPod Touch.
For those that haven't followed fashion with an iPod the glasses come complete with a range of cables to allow connection to various video sources. This includes cables for composite video, DVD player, iPod, Nokia N95, Creative Zen and Archos players.
Completing the package are a headstrap and a carrying pouch.
Amazon are shipping the Vuzix AV920 for £191.73 including shipping, which, although expensive, is good value compared with the recently reviewed MyVu Crystal.
http://www.amazon.co.uk/gp/product/B000X471P0?ie=UTF8&tag=gadge0a-21&linkCode=as2