Enhancing Audio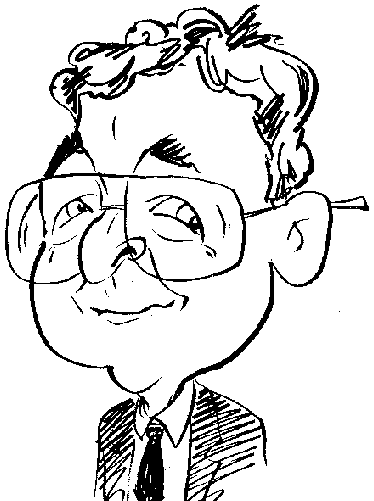 Review controls
Small enough to fit in a pocket, a new product from Gear4 comes with the promise of enhancing your audio listening experience.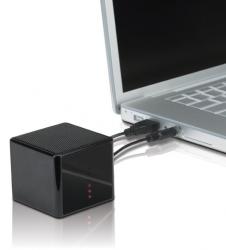 click image to enlarge
The Blackbox Micro is an audio system consisting of a single speaker that lives up o its name in most respects. For a start it is box-shaped and is almost completely black in colour. Admittedly one face of the box does feature a reddish orange pad but as that is on the side which rests of whatever surface is being used, it does not spoil the illusion. I was going to say that you do not really notice it but, in fact, you do – more on that aspect a little later. As for the Micro reference, this applies to the box's dimensions which are 5 x 6 x 6cm.
Developed by Gear4, the Blackbox Micro kit consists of the main unit; a 75cm audio cable with a 3.5mm plug; two USB leads (75cm and 150cm) with a mini connector at one end – the reason for two leads is that it does give you some leeway when it comes to positioning the speaker in relation to the audio source; and a mini multi-language User Manual. The Blackbox Micro makes use of the SFX Technologies Gel Audio Driver. This driver incorporates the reddish, orange pad, which has a slightly tacky feel to it, in order to enhance audio output. By making use of whatever solid, flat surface is being used to seat the speaker as if it were a sounding board, the Gel Audio driver sets out "to enhance bass notes and dramatically improve the volume and audio quality of the speaker".
While this device is being aimed primarily at those who use a notebook or iPod/MP3 player, it can be attached to any device capable of producing audio output although in some cases you may need to provide the appropriate connecting lead. Testing the Blackbox Micro with a variety of devices produced different results, some satisfactory, other not so.
My first series of tests involved my Creative Zen V+ MP3 player. Even though the volume control on the Zen V+ was set to its highest level, the results were very disappointing. A series of LED lights on the front of the box, which are meant to flash in synch with the volume level, failed to appear apart from the initial inserting of the audio cable. The audio cable also had a habit of trying to eject itself if not fully inserted. Furthermore there was a distinct lack of quality with the audio delivered by the speaker and I could discern no difference when the device was placed on a flat surface or held in mid-air.
Checking with Gear4's technical support revealed that a couple of the problems could relate to the volume level being received by the Blackbox Micro. As a result I decided to switch to alternate sources of audio output by using a computer and my Hi-Fi system. In both cases there was a remarkable improvement in the performance of the Blackbox Micro.
While I would hardly call the red LED lights attractive or hypnotic, they did at least flash in relation to the volume level. What was more impressive was the sound quality with a far more rounded, solid output with greater volume when the Blackbox Micro was in contact with a flat surface rather than being held in mid-air. It was almost as if I was using different equipment. It might not satisfy a Hi-Fi enthusiast, it was more than adequate for my ears and perfectly capable of producing audio for group listening or background music for various social occasions/
The Blackbox Micro has been priced at £19.99 and comes with the various leads although a small carry pouch would have been appreciated.