Garden Fun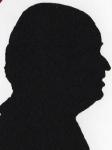 Here a Hot Stone Grill to cook on and while it's cooking how about a game of Boules but whatever you do not play it on the patio or the prize lawn.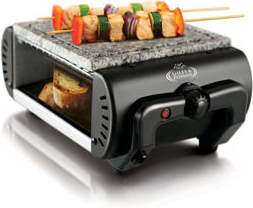 Giles & Posner Hot Stone Grill
Sometimes cooking outdoors (near electric power) is nice, but the thought of cranking up the barbecue is just too much trouble, here is something that almost gives the same effect a Hot Stone Grill.
While some men insist their job is to cook outside on the barbecue and never in the kitchen, this could produce a demarcation dispute as a long extension lead could well have this grill being used in the same area.
Even if you have a barbecue setting it up takes time. Indeed if it is the charcoal sort this can easily be more than an hour. Of course if this is for a party it can be planned, however just for two when you come in from work on a nice evening it's probably too much fiddling about unless you want to eat very late.
The Giles & Posner Hot Stone Grill is 30x20x12.5cm. It comes with a one metre 13amp lead. The top is a stone grill made of polished marble that sits above the grill element. This is easily removed for cleaning.
There is a 20x19cm grill pan with rack that can sit under the grill for toast or to cook under the element inside the grill. The left side has a rotary control that twists a full circle from off to on then minimum round to maximum. There is a red LED beside this when power is live to the unit.
A 'User Guide' is provided but no meal suggestions apart from the cover showing some kebabs. However I have cooked chops and steaks but this is certainly for one or two people because of the size. You could even grill a nice breakfast on it. The grill is £34.90, including UK shipping direct from Giles and Posner while the best Amazon price is £33, again including shipping. I notice the box states for inside use only.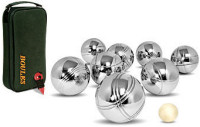 Boules
Boules are best played on a levelled piece of soft ground, grass works but not lawn, unless you want to upset those who tend it. Unlike bowls the Boules are tossed not rolled.
The box has a zipped fabric case with eight boules (a single boule weights around 700 grams) a cochonnet (Jack), and a measuring device.
There is a one sheet summery of the rules. The object is to toss the boule to land closest to the cochonnet. It can be played by teams of one to four players. Each boule has a slightly different pattern of lines cut into it so you know whose is whose.
You mark a circle and everyone tosses from that point the recommended toss is around ten metres. Unlike bowls you do not throw alternately. Once a boule is thrown nearest the cochonnet then until one is tossed nearer the other team continue to toss until they get nearer or all their boules are tossed.
I found a raked area of earth worked well as the skill is in the toss and not expecting the boule to continue movement when tossed.
Whereas bowls requires a nice smooth lawn boules do not and remember the weight of them so not a game for the younger children.
Boules are available from the link below at £14.99 plus delivery.
http://www.iwantoneofthose.com/garden-boules/index.html