Two Toy Fair Games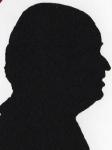 Here I will tell you about two of the board games I was promised at the Toy Fair in January that have recently arrived. First About Time a game stated to be for 14+, second one for 8+ Cat Attack.
About Time
First the 14+ claim this is I think simply because the questions are not that easy - well I did not think so anyway - and to have a chance to enjoy the game you need to be able to get a percentage correct.
It is all about 'Iconic Events' and when they took place. The game is for at least two players but it states 2-20 players. You could play in teams with teams always being able to confer.
Looking in more detail there is a board with a range of squares (some better than others). I suppose anyone who can 'count cards' could memorise all the answers but as there are 1668 questions it will not be that easy.
The time line goes from 1000BC up to 2007, in all questions the nearest to the correct date wins. The object is to collect tokens but even once you have won tokens they can be lost in a variety of ways you could even catch the Plague.
There are other cards Time Cards for instance give a clue to the answer. Not an easy game to master although anyone could get lucky but above all a good knowledge of history is likely to prove a good starting point. The board itself has many pitfalls and it is not just an advanced trivial pursuits.
Being a board game it needs space, the board itself is 60x45cm and some space is needed outside this. I understand a card game version is promised ideal -it says - for playing on the move.
The About Time web-site is worth a look and you can purchase it from there at £29.99 including UK delivery.
It's also available from Amazon for the slightly lower price of £23.41 :
http://www.amazon.co.uk/Circa-About-Time/dp/B000ZJ4CPA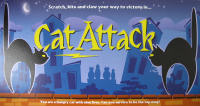 Cat Attack
This is a strategy game and as it says on the box 'scratch, bite and claw your way to victory'. You are a cat - before worried parents think it encourages humans to fight - and also from the box 'you are a hungry cat with nine lives. Can you survive to be top mog?'
A game for two to six players from 8 upwards. The 48cm square board is bounded by four roads wonderfully named, Cat's Alley, The Clawsway, The Purrade and The Mews. The four corners have The Dairy, Corner Shop, Fish Mongers and The Vet. I assume you do not need me to suggest which one is not the place to go.
The basics of the game is to be the first to collect a bird, a mouse, a bowl of milk, a tin of cat food, a box of vitamins and a tin of fish, then by the correct throw of a dice make it home. There is another way to win and that is to be the sole surviving cat.
The board has lots of spaces some marked 'curiosity' some are blank, where you land is not totally random as you have cards (six) that determine the number of spaces you move and dependant on the state of the game a 'curiosity' space could be helpful.
I enjoyed playing the game as there are lots of other puns around there are other special cards such as Speedy Cat, Cat Attack and Cat Burglar. It's not as simple as you think.
Doing my Internet searches found Cat Attack available for £22.35 from Amazon on the following link :
http://www.amazon.co.uk/Cat-Attack-Board-Game/dp/B000MILVDU

A look at their website produces a range of other independent resellers in most counties who also handle it.