Shure SE110 Ear Phones

Published 4 Feb 2008 Author
petew
The trend for carrying your music with you, started by Sony with the Walkman cassette player back in 1979. Things have progressed to the point where you can carry an entire lifetimes music in the palm of your hand.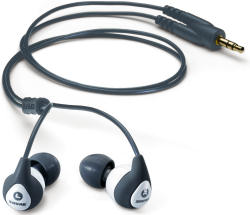 Click image to enlarge
An industry that started as a portable cassette player has developed into the myriad of devices of varying capabilities and varying capacities - ranging from a simple flash based player through to to video playback. Despite the attention to fashion, function and capacity one area is almost universally neglected - the humble earphones. Most players ship with fairly basic poor quality earphones - they look good, but how well do they perform?
So having parted with what's still a considerable sum of money why let the weakest link in the chain spoil your enjoyment? Shure focus on that last leg - taking your music from your payer to your ears. As a company they've provided high quality audio to both industry and discerning hi-fi buffs since being founded in 1925.
The Shure SE110 is the latest addition to a range launched in January 2007. The SE110 provides a new entry price point to the range at around £50. That may sound a lot, but assuming you bought your media player on the grounds of sound quality (that was a consideration wasn't it?) then getting the best from it that you can is not unreasonable.
The whole SE range are what Shure call 'Sound Isolation' earphones - the idea being to remove background noise that would otherwise distract from your enjoyment. For this to work the earphones require a very good fit with your ear - effectively a sound-proof barrier. All ears are different and achieving this is quite a feat. Shure's solution is to provide their products with a "Fit Kit". The core earphone looks a little odd, with a thin tube protruding from one end. The Fit Kit then provides a range of different sleeves of various sizes and materials that fit over this tube. It is the sleeve that provides the seal in your ear.
The manual recommends that you try as many of the different sleeves as you can to find those that best match your particular ear. This I duly did and found one set that worked perfectly with my ear and a set that came a close second. In my case the 'black foam' sleeves worked best, if a little oddly. You squeeze the compressible foam so it's a fraction of the site - slide into your ear and hold it in place for ten seconds. The foam expands in your ear forming a seal. They are very effective. With them in my ear and no music it was virtually impossible to hear anything - including the phone ringing!
How they performed
As a fairly early adopter of the original Walkman, I've been through a fair few sets of headphones and earplugs, each having their own niggles.
I tested the SE110 earphones on my Sony Ericsson K800i (as MP3 player), a Sony HD Walkman and, of course, an iPod. In this case the latest iPod Nano. All performed equally well with excellent sound quality.
Different environments
In my case I have some demanding requirements for earplugs - the most arduous of them being that I must be able to run in them for fairly long distances and I must not have them dropping out of my ear every few minutes. Although initially sceptical, the SE110 surprised me. Not only were they comfortable, but I managed to run for 2 hours in the cold, with at one point not insignificant rain and they didn't fall out once (using the expanding foam sleeves).
Further - at one point in my usual route I run along a busy road in the rush hour. Usually the sound of traffic drowns out the music almost completely, even with the player volume set to maximum. The sound cancellation from the SE110 helped enormously - no need to turn up the volume and the traffic was hardly audible. This was highlighted on my latest run in which an ambulance with light and siren blazing drove toward me. I heard nothing until it had virtually reached me.
My other common use of music is in an office environment to drown out background noise. Although the sound quality was very good, inserting the earphones is somewhat time consuming. Having to take them out to answer the phone (if heard!) or exchange a couple or words with a colleague became annoying. Because they block out sound you can't just turn the music off!
Comfort
The recommended way to wear the SE110 is to hook the cable over your ear and wear the earphones in a way that feels upside down. You can wear them the normal way, which I tried however the audio cable provided with the SE110 turns out to be quite heavy - much more so than most cheap earplugs. This in turn provides a not insignificant pull on the earplugs, which I believe is the reason for the recommended way of wearing them - hooking the cable over your ear reduces the weight pulling on the plugs and reduces the chance of them being pulled loose.
In practice I found looping the cable over your ear to be annoying on two grounds - firstly it meant very careful positioning of the earplug when you inserted it so the cable was in the right place, and secondly I found the wires rubbed a little on my ears as I moved.
I think what's required is a small clip that can be attached to a lapel or shirt that takes that weight.
Modularity
The whole SE range is slated as being 'modular', allowing you to adjust the earphones to your requirements. The earplugs themselves end in a jack-plug at the 'V' where they meet. You are then provided with a 3 foot cable to connect to your media player. This cable can be replaced with several other cables (available at additional cost). Firstly there is a much shorter cable allowing you to connect to an arm-mounted MP3 player - useful for runners. Another option is a phone adapter that includes a microphone.
Summary
The sound quality achieved through these earplugs is superb, especially if you then go back to the set that came with your media player - you really notice the difference.
Sound isolation is very effective - you might want to be a little wary of wearing these at night or out alone - you're unlikely to be aware of any other sounds around you.
The price of sound isolation is a slightly awkward ear-fitting process - you have to get that seal. You are not going to want to be inserting and removing these frequently so they are best kept for those times when you're not going to be disturbed.
The cable is a little heavy and would benefit from a clip to take the weight - but as long as you're willing to use the recommended way of wearing them this isn't going to cause you a problem.
Finally - they do take a little getting used. You need to experiment with the different sleeves and also get familiar with fitting them. The effort will however be rewarded.

On the whole an excellent product. If you've spent a small fortune on a fancy media player, why tolerate second best sound quality just because they shipped you a poor set of earphones?