Ministry of Sound MOSMCO57IP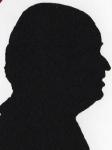 Why you may ask did I not put the name in the title, simple reason it's just too long. It's a CD MP3 DAB Micro System with iPod dock. It also has FM and SD card support.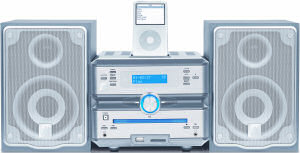 This is a rather smart gun metal grey box 21x28x16cm. It comes with two speakers 16x22x23cm these are also grey with a different grey mesh grill. The speaker leads are the fashionable bare leads but the claw grab fittings lock onto the leads.
Fifteen pages of the manual are a must read as it does a lot of things differently to other units I have used. Some appear - to me anyway - to be illogical. The front is divided into two sections with a round volume control splitting them. The top part has the display and controls relating to the radio. The bottom half has the CD drawer and previous/next track as well as stop and play buttons but the open/close buttons is on the top half!!!!
The rear of the unit has the nine piece 64cm telescopic aerial. It also has the snap/lock connectors for the 1.4metre speaker wires and also the hard wired power lead and master on/off switch.
Everything else can be controlled from the forty one key remote control that is stated to work up to seven metres away.
Unusually for a DAB radio it does not perform a autoscan on first switch on you need to press the input button, then the auto button and then hold the auto button to get this to happen. I found this harder than you may think but once scanned everything worked well. The 6x1.5cm two line LCD display is clear and bright with white letters on a blue background. The top line is the station and the second line can contain a variety of items. Setting presets is simple (some other manufacturers may like to take note here). Switching to FM is a single press but moving from one end of the spectrum to the other is difficult and time consuming so presets are a must here. A nice feature not found on all DAB/FM units is that the station name is shown once you have tuned in.
I found the CD a bit limited while you can program it and also set random the display can only show track and elapsed time.
Now onto the extras, it can play CD's of MP3 tracks and as a CD can hold around twenty hours of MP3 music at 128mbps that's certainly enough for a good party.
It can play tracks on an SD card and you also have full control over an iPod with seven different plastic shields being supplied to fit almost all iPods.
There is a clock and here I was less than pleased as you had to manually set it and should you lose power or turn the unit off via the switch on the back or remove the plug from the wall socket it will lose the time. Almost all DAB radios take the time broadcast by the station why then can this MOS unit not?
You can set a sleep timer and an alarm referred to as a timer. A lot of people like having more than one alarm but that would require the unit knowing the day of the week and this does not.
Sound quality is okay but not outstanding and for a unit of this type why only two speakers surely a sub woofer would have been nice. It would have been nice to record to SD card and so many other items from an ideal wish list. So this remains a curates egg of a system.
Doing my Internet searches found the MOSMC057IP at a best price of £139.99 from the link below. Also sold by Asda in their stores (not their website) at same price.
http://www.digitalstores.co.uk/ministryofsound/productdetail.jsp?productPK=unittest-ijTaOcCFlZuFfwTzqN3IEb-1