Headsets without Wires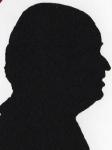 Two headsets for different purposes, one from Microsoft that was originally developed for X-Box use and the second from Jabra that is designed to fit onto a car sun visor.
Buy Now
Lifechat ZX-6000
Best Amazon price : £29.50

£29.85 from DABs

Jabra SP5050 Speakerphone
34.99 from Amazon

Microsoft LifeChat ZX-6000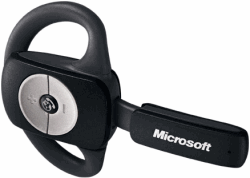 This device was first created for use with a X-Box but have been given a new life to work with a PC. It is stated to work with all flavours of XP or Vista.
The base station fits in any USB port it is 6.5x4x1.5cm and it has a 1.7metre lead. The earpiece is chunky by comparison to some but it is comfortable to wear. It is roughly 10x3x2cm but the rubber piece that fits behind the ear is 7cm across so the width is technically 7cm not the 3cm I gave.
The outside of the unit has a + and - button for volume and in the centre of these an option to answer a call. On the end of the arm is the microphone and people I have spoken to noticed no difference from a standard phone call. However up this arm (that is beside your jaw) are four green LED's denoting the strength of the signal, all totally invisible - and useless - when you are wearing it.
The stated range is 30 feet and I was able to move from room to room with no problem while talking. There is a getting started sheet that should be enough to get you up and running and a CD that has drivers and a copy of Live Chat. However once the drivers are installed it works fine with Skype.
The box comes with a flyer for something called Verizon Web Calling offering 60 minutes of free calls, however get out the magnifying glass and read the small print you will find this offer only applies once you have signed up to the service with a credit card and made commitments so not that great an offer.
The claimed battery life between charges (charger supplied) is eight hours and I certainly got close to that figure. When searching through the audio devices with Skype anyway the correct item is still called for 'X-Box' so whatever modifications have been done certainly did not go as far as renaming the device. The second link shows all about the probuct. Best price is £32.84 including delivery from first link.
www.digital-fusion.co.uk/INU_products/INU_ProdDetailsL9.ASP?ref=36966273
http://www.microsoft.com/uk/hardware/digitalcommunication/ProductDetails.aspx?pid=004
Jabra SP5050 Bluetooth Speakerphone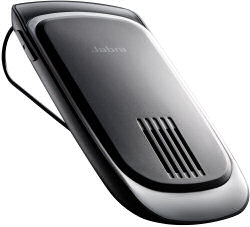 This device clips under a sun visor and allows you to safely and legally receive calls whilst driving.

There are two buttons one on either side edge one to increase the volume and the other to decrease it. A rubber bung covers the charger access point and that's it.
The unit is 12x6x1cm and has a strong wire clip on its back to fit onto almost any sun visor (certainly all I tried) as you only need one edge to slide it over. The other things in the box are the charger unit with cigar lighter end, a mini getting started guide that duplicated the instructions on the box and a mini CD-ROM. The CD contains the manual should you need it.
Installation (after a good charge) is just a matter attaching the unit to the sun visor switching it on, it automatically enters pairing mode set your phone to discover the speakerphone and confirm with the pincode.
When driving at night activate the night driving mode by pressing the both the volume up and down buttons at the same time, this action will turn off the LED's thus reducing any distraction that they might cause you.
Simple, easy to use best of all you are legal for those that must always be in contact.
Doing my Internet searches found the Jabra SP5050 for a best price of £34.99 from the first link below.
http://www.amazon.co.uk/exec/obidos/ASIN/B000R3ROZO/kelkoompcpc-21/ref=nosim
http://www.jabra.com/Sites/Jabra/uk-uk/pages/Product.aspx?productid=7ebe4567-88b1-4807-af93-23e95051a6f2