Book and Slippers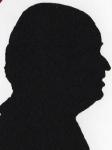 Mid summer may seem a strange time for slippers but with recent cold wet spell they are very acceptable and a good book is always something whether in the garden of the armchair.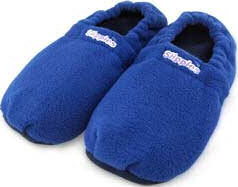 Slippies from Gizoo
To call these slippers is a slight misnomer. They fit on the feet but walking in them is not easy - nor encouraged - as they do not have non slip soles. The contents of the sole is a flaked substance and will often move to one end. However after a couple of minutes of wear it redistributes about the base.
They are microwaveable and frezzeable dependant on the weather. On a warm/hot day putting your feet in really cold slippies is rather pleasant. As I type this it's a cold wet day and the slippies have just emerged from a 90 second blast in the microwave. They feel just warm when you put them on but get warmer after a couple of minutes wear and make you feel comfortable.
I am a small size 10 (shoe size) and the size I was sent is 'L' stated to be for 8-11 and for me they are fine. The contents are stated to flax seeds and herbs, certainly when new you can smell the aroma of herbs, it is stated that after a while a couple of drops of lavender oil can be added to refresh the aroma.
Certainly walking on them is not easy - hence the disclaimer - and you do so at your own risk however wearing them while in the deckchair or armchair - even the office chair as I have now is very pleasant.
The price from the link below is £14.95 either for small (4-7) ore large (8-11).
http://www.gizoo.co.uk/Products/HealthFitness/Relax/Slippies.htm
Photoshop CS3 For Dummies
To me anything to do with Photoshop is definitely not for Dummies, just mere mortals trying to get to grips with a rather useful software package that quite naturally is not the easiest to understand.
To begin with this is a weighty tome at over 700 pages. The covers says it's nine books in one.Quite surprisingly for such a large wide ranging book it is written by a single author Barbara Obermeier. She is the principle of a graphic design company in California and has written various books including earlier Dummies offerings.
Certainly a book for those with at least a working knowledge of the basics of Photoshop. So having donned your slippers and found a comfy chair let's dive in, I would suggest either a large quantity of post it notes or a pad to make notes nearby.
Book one is the nearest thing to a beginners guide around 100 pages covering the fundamentals and introduce key tools. Book two covers details about images and how to safely resize again close to 100 pages.Book three covers creating and modifying and also covers the pen tool and palette this is just short of 70 pages. Book four covers painting, drawing and typing this includes what for a lot of people is their graveyard the brushes palette this runs to 75 pages.
Book five covers one subject layers and I at least have always have difficulty what how and what with this subject not surprisingly up to 100 pages again. Book six covers channels and masks and covers quick, layer and channel masks the shortest book yet at only 50 pages. Book seven covers filters and distortions and I will willingly admit this is something that has always given me problems, while I think I understand a little more I am likely to refer back to it's 45 pages again. Book eight covers colour correction and enhancement otherwise called retouching and restoration at around 75 pages. Finally book nine at 35 pages certainly the shortest covers preparations for print resolution image mode and file format are all covered here.
As always there is a comprehensive 18 page index and by the end you will know a lot more about Photoshop. Available from bookshops at £26.99 or online. Amazon stock Photoshop CS3 for Dummies at £9.58.
http://www.amazon.co.uk/gp/product/0470111933