Combining Formats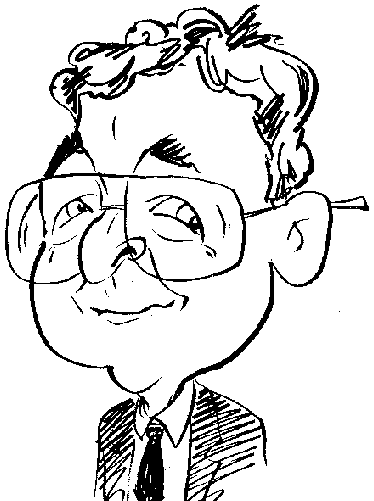 Rather than force the user into making a choice, LG takes the approach that two formats will fit into a single box.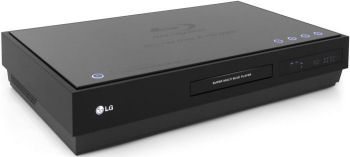 There have been several instances of so-called "wars" between competing technologies in the past. A couple of examples are those between Betamax and the VHS video tape format and the short-lived contest between the GEM and Windows GUI software packages. While the winner tends to rack up sales figures with a healthy profit margin, the loser fades into insignificance and perhaps disappears altogether - sad to say the winner is not always the more technological astute product or solution. The latest of these head-on battles is that currently taking place between Blu-ray and HD DVD for the dominance of the high definition disc market.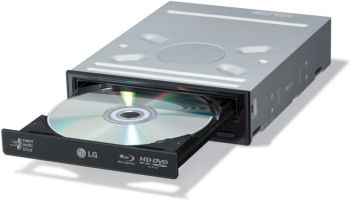 Most drive manufacturers have nailed their colours to one of the two competing technologies but LG has taken a more consumer orientated approach. Rather than force users to decide whether to opt for a drive that is compatible with either Blu-ray or HD DVD, LG has developed a product that can handle both formats within a single box. As its initial launch offering, LG has released the GGW-H10N (hardly the most memorable title) and the more appropriate Super Multi Blue.
With its far more appealing title, let's start with the Super Multi Blue which arrives wearing the crown of the world's first dual-format Blu-ray and HD DVD player in the UK. According to Daniel Aziz, Marketing Manager of LG's Digital Media and Car Infotainment Group, "The launch of the Super Multi Blue gives consumers the freedom to watch either Blue-ray or HD DVD without being limited to only the films available on each individual format."
This player offers full HD 1080P picture quality from high-definition discs. Built-in interactive functions, based on BD-Java, allows for advanced menus and functions to be displayed on-screen while content is playing in the background. Included among the supported formats for this player are playback of existing DVDs with 1080i up-scaling, MPEG-2, VC-1, H.264 video, Dolby Digital, and DTS-HD audio. The unit has multiple outputs featuring HDMI, component/composite video and optical/coaxial/discrete 5.1 channel audio. Control is via backlit touch sensitive buttons and an ergonomic remote control that is supplied as standard.
Along with the first dual-format high-definition player, LG has come up with the world's first dual Blue-ray disc Rewriter and HD DVD-ROM internal drive in the UK. As mentioned earlier, this is the GGW-H10N. Rather confusingly, this unit is also to be known as the Super Multi Blue. This unit will read and write Blu-ray discs while also reading HD DVD discs plus giving the user the functionality to write and playback DVD/CD media when installed on a host computer.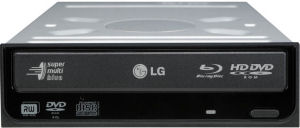 Figures released by LG, indicate that this drive allows up to 50GB of data to be recorded on each disc giving up to 9 hours of high-definition video or 23 hours of standard definition video using dual layer BD-R/BD-RE recordable media. The recording speed of Blu-ray discs, rated at 4x, means it should take 23-24 minutes to burn a full single layer BD-R disc (25GB). This drive makes use of LG's proprietary Optical Pickup technology to provide its multi-format functionality.
Both products are expected to be available from selected retailers from May onward. Currently LG is only naming John Lewis as a confirmed retailer. As with any new technology or in this case a combination of technologies, prices are initially set at a high level. The Super Multi Blue external player (BH-100) bears a price tag of £1000 while the internal GGW-H10N drive is expected to be sold for between £700 and £800. Hopefully reviews of both products will appear on this site when units become available.
Amazon are now stocking the GBW-H10N for £410.98 on the following link :
http://www.amazon.co.uk/gp/product/B000H6NZZO