Joby Gorillapod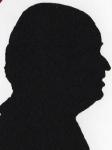 Here I am looking at three different tripod type devices to allow you to let go of your camera. First the Hybrid that works with DSLR or pocket cameras. The other two are smaller the Micro250 for the pocket offering and the Micro800 for the larger pocket offering or the smaller DSLR.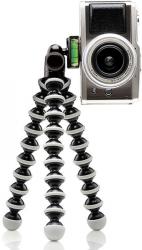 click image to enlarge
Joby Gorillapod HYBRID
I think this was the first to offer gripping of a non flat surface; in fact it can grip round a pole. Here the Hybrid can raise your camera by up to 24cm from a flattish surface like a wall. Not only does it have a ball and socket joint on top to allow you to use camera at any angle but a built in spirit level if level is what you need.
The joint will tilt at any angle to 90degrees and it will pan through 360degrees. The total weight of the Hybrid is 190grams. It will support up to one kilo.
Each of the three legs has ten independently movable parts that mean it can grip to anything that it can encompass.
While most will think of the Gorillapod as a tool to hold the camera it can also be used to hold lights and is still portable enough to fit in any bag.
I found the Joby Gorillapod Hybrid available from Amazon for £29.99 with free delivery.
http://joby.com/gorillapod/hybrid/features
http://joby.com/store/gorillapod/hybrid
Joby Gorillapod Micro 800
This is only 8x3x2cm and weights only 62grams. It can raise a camera by 3cm. Each of the three solid metal legs has a solid rubber foot to enable grip.
The main use will be for allowing remote shooting but of course it could be used to hold a light and it will not only fit in any bag easily it will also fit in a pocket so another hand need not be required and it can support up to 800 grams.
The Joby Gorillapod Micro 800 is available from the link below for £24.95
http://joby.com/store/gorillapod/micro800
http://joby.com/gorillapod/micro800/
Joby Gorillapod Micro 250
This is 6.5x2x1.5cm and weights a tiny 26grams. The Micro 250 can hold a small camera above a table or wall by 2cm.
It has black coated allow legs and grey rubber feet, On a non level surface an angle of 36degrees can be handled.
Easy to lose in a bag so maybe a pocket is the best place to keep this tiny item. It is solely for the lightest cameras.
The Joby Gorillapod Micro 250 is available from the link below for £16.95 in grey, blue or red.
http://joby.com/store/gorillapod/micro250
http://joby.com/gorillapod/micro250/
These make ideal gifts for the photographer and if you buy from the Joby store they will gift wrap them for between £2.95 and £3.95 dependant on the item purchased.
If none of the units mentioned are suitable for you, I see their website has no less than twenty different models to choose from.