Four Tiny Utilities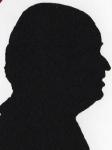 Review controls
These four items are all tiny and each would fit in the pocket without a bulge. The first to give light, the second for those little important jobs, the third another torch but this charges using Solar power and lastly something to look after your digits.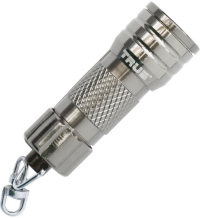 TU83 Compact 3 LED TrueLite
This is a small torch designed to fit on a keyring or attached to a clip in a bag or purse. It is 5.5cm long and less than 2cm round at the front. It has three LED's that give an extremely bright light. It is powered by a set of four AG15 watch type batteries.
Twist the front to turn it on/off and the beam lights up an area over ten metres away. The package does warn you about shining it in your eyes. Excellent light and it now resides on my keyring.
I do have a gripe and that's the one about needing industrial scissors to get into the packaging. Available from www.trueutility.com at £7.99
TU55 Key Tool
This tool is 6cm long and a maximum of 1.5cm wide. It fits on your keyring and does indeed look a little like a key from a distance.
Its first job saves your teeth or a desk edge from damage it's a bottle opener. The second is a file for those times when a nail gets broken (I suspect more for a man as most ladies seem to have a range of tools for this possibility). The third and the forth are for the same job but for different sizes of screw as it is a mini screwdriver, possibly saving damage to a range of items such as knives that often get called into action for this task. Another item that now resides on my keyring. Available from www.trueutility.com at £1.99 or free when ordering anything else using the special www.gadgetspeak.com code (see end of article for details).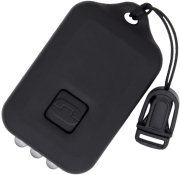 TU53 Solar Key-Ring Torch
Another that needs the industrial scissors to open it. It is 6cm long and close to 4cm wide but only a tad over 1cm thick. There is a 3.5x2cm solar panel in its face, however while it is mentioned about fitting on a keyring I do not see there being much sunlight in most pockets or purses. I would also be worried about possible damage to the solar cell from other keys.
Like the torch above it has three LED's and again easily lit up an area 10 metres away. No warning this time about shining in your eyes. A six hour charge is meant to give between two to three hours of light. At this time of year I suspect you would need longer to charge for less.
The exterior is a rubberised material designed to absorb shocks but again I do not really see this fitting on a keyring for the reasons given. Available from www.trueutility.com at £7.99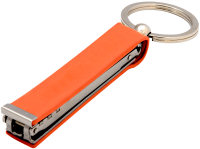 TU52 Nail Clippers
This is two items in one nail clippers and fine nail file. It is 6cm long a tad over 1cm wide and a tad under 1cm thick. Away from needing the industrial scissors this just clips onto the backing board. The front and back are black leather and it has a 2.5cm substantial key ring attached.
The main tool is under the leather flap and it has a nice solid spring to the action with the jaws opening to .5cm meaning even the most substantial nail stands no chance. The under part has an inset 2.5x.7cm file board.
It clips back together so there is little chance of the item spring open in your trousers or purse. I suspect more of a male item as most ladies will probably have several devices in their arsenal to handle the job of these nail clippers. Available from www.trueutility.com at £6.99
I am told all their products should be available at branches of Halfords.
SPECIAL OFFER. True Utility currently have a special promotion for GadgetSpeak readers - they are offering a FREE KEYTOOL (TU55) with every on-line order purchase over the value of £10. Simply visit the True Utility web-site, select your products and then enter the offer code TU003GS. Delivery is free.