Nikon Coolpix L23 Digital Camera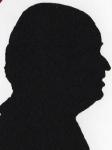 I hesitate to use 'entry level' about any camera from Nikon. The Nikon Coolpix L23 is a small digital camera and probably the nearest thing they do to 'point and shoot' however this is still a more than competent piece of camera equipment.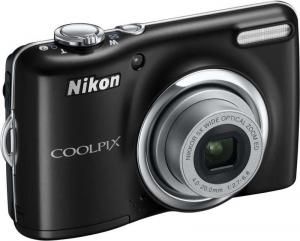 click image to enlarge
This is the only Nikon unit I know that is powered by two 'AA' batteries. It weights 165grams and is 9x6x2.5 cm.
The unit was a glorious matt black meaning that even the TFT is matt and therefore does not show finger marks. The only non black bits are the lens surround, the two buttons on the top and a central line all in chrome.
This is still a Coolpix camera and it takes excellent images while 'Easy Auto Mode' is the default a single button press can change this. In fact almost everything is a maximum of two presses away from the top menu.
The right side has AV out behind a tight fitting rubber bung and wrist strap anchor point. The left side is clear while the base has tripod screw, and a door behind which the two 'AA' batteries and any SD card you use are inserted.
The face has the 4to20mm lens that protrudes up to 2cm when fully zoomed to the 5x limit; the flash is the bar sort and is mounted above and to the left with the light sensor mounted to the right of the lens. Don't be put off by the 10MP image size maximum a lot of very high end units only have this and as the saying goes size is not everything.
The top has a small on/off button and a larger shutter release button with the wide angle / telephoto around it. This leaves the back which has the 5.5x4.2cm TFT filling all but the right of the back. This part has only two pairs of two buttons and the ubiquitous five position joystick, all the buttons and the one LED for flash are well illustrated.
Image size maximum is 3648x2736 for 10MP, 3264x2448 for 8MP, 2592x1944 for 5MP, 2048x1536 for 3MP, 1024x768 termed as PC and 640x480 is VGA. While I shot at all resolutions a took a lot in all conditions at 5MP as this provided plenty of information for an A4 print and 3MP is probably a little skinny for the job. There is a single 16:9 mode 3584x2016.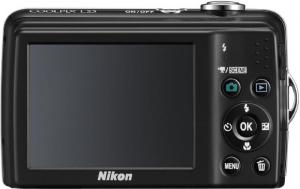 click image to enlarge
For those wanting to take HDMI videos this is not the unit for you it has VGA 640x480 and QVGA at 320x240.
There are seventeen scene modes Portrait, Landscape, Sports, Night Portrait, Party/Indoor, Beach,Snow, Sunset, Dusk/Dawn, Night Landscape, Close Up, Food, Museum, Fireworks, Black&White, Backlighting and Panorama Assist.
I normally suggest you try to get off Auto or Easy Auto as soon as you can, here however I think for those who do not want to progress this can take excellent images by having it in either mode and just letting it make the choices.
My only moan is something that applies to almost all small digital cameras the fact that the TFT is uncovered and likely to get scratched. My inelegant solution is to take it with the toughened paper/plastic/bubble wrap slip case so I can return items in the state they came in. This of course is not a permanent solution only a case of some sort is that.
However when the camera itself is not expensive a lot will feel paying a lot for a case is not on so the chance is there for a simple all purpose slip case at a few pounds.
Doing my searches found the Nikon Coolpix L23 at £54.99 including free delivery.
http://www.amazon.co.uk/gp/product/B004MPR3VS?ie=UTF8&tag=gadge0a-21&linkCode=as2&camp=1634
http://www.europe-nikon.com/en_GB/product/digital-cameras/coolpix/life/coolpix-l23