Canon PowerShot A800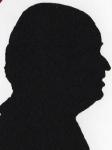 This is another from the range of small pocket cameras produced by Canon. The Ixus range normally has solid batteries and the PowerShot range – as with this – normally are controlled by 'AA' batteries to power the unit.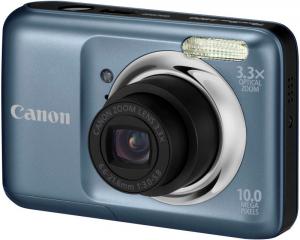 The Canon Powershot A800 9x5.5x2.5cm and weights 184grams; mine was a muted crimson with a black band around the top and the sides.
By recent standards it would be regarded as entry level as its 10MP and only has 3.3x optical zoom capability.
The right side has a rubber bung covering A/V out and Digital and two holes that allow you to thread the wrist strap through, the left side is blank. The base has a tripod anchor point and door behind which the two 'AA' batteries go and whatever SD card you might use. The top is very clear having a rectangular –near oval – button for on/off and the circular shutter release.
The face has the 6.6-21.6mm lens and the 2cm bar flash above and slightly left making it at least 3cm away from the lens. Total movement on the lens is 2cm out when first turned on and up to another .5cm when fully zoomed.
This leaves the back which is dominated by the 5x3.7cm TFT display (2½ inch diagonal) to the right of this ten buttons (some with more than one job) to control the camera. All the buttons are clearly marked and easy to use.
The only printed documentation is a small Getting Started manual with the first 32 pages in English. There are two CD's one with the manual in PDF format in various languages and the other CD has some camera/PC software.
There are five shooting modes L 10MP 3648x2736, M1 6MP 2816x2112, M2 2MP 1600x1200, S VGA 640x480 and Wide 3648x2048. All are available in either fine or normal compression the latter gives an image around half the overall size. The screen that allows image changing shows how many images you can capture at that size and compression.
It can of course capture video and has three modes 640x480, 640x480LP and 320x240 again a counter showing how much (in minutes and seconds) the current setting can capture on the SD cards remaining space.
Changing from still to movie is a toggle on a single button which also has Program and Scene as options to go through. Assuming you are staring at 'Auto' the choices you have are fewer but once you go to 'Program' the same buttons do the same job but with more options. For instance when in 'Auto' mode flash is either on or off, when in 'Program' mode there are a total of four options. So just because something does not appear in a menu or option when in one mode does not mean it is not available from the camera in some other mode of use.
Some cameras have lots of 'Scene' modes this basic unit has only 12 but a beginner will only be confused by more. My own personal preference is for a camera with a solid battery but I understand those who prefer the 'AA' solution as if power runs out while you are away you can buy replacement batteries for it almost anywhere.
I was happy with the images I took both in daylight and with flash, the lower zoom option is probably a plus as people can get put off with big zooms that just give a lot of movement on the image until they learn just because you have got it you do not need to zoom right in to something to get a decent image.
Doing my Internet searches found the Canon PowerShot A800 at £66.49 from the first link below.
http://www.amazon.com/gp/product/B004HKJUK0?ie=UTF8&tag=gadge0a5-20&linkCode=as2&camp=1789
http://www.canon.co.uk/For_Home/Product_Finder/Cameras/Digital_Camera/PowerShot/PowerShot_A800/