Sigma DP1x Digital Camera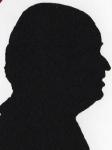 Review controls
This is very slightly larger than a small 'point and shoot' digital camera but a good deal smaller than most DSLR however in reality it is neither, it has good points and bad, two that stick out are no optical zoom and a poor inbuilt flash.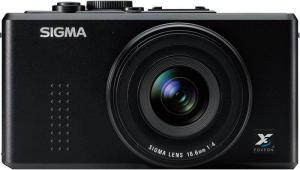 click image to enlarge
The Sigma DP1x Digital Camera measures 11x6x5cm with the last dimension, the depth increases by 2cm when you remove the lens cap and turn it on, it weights 280grams.
Truly an oblong box with the lens protrusion being the only thing extending, the face has only the lens as the flash – such as it is – has a manual release mechanism on the top, I rarely mention its size but as it is 2cm long and less than .5cm tall I think that could be the reason for its ineffectiveness, in fact in some low light environments I got better images by NOT using the flash. It is also a minimum of 6cm behind the lens when in use.
Also on the top is a shoe mounting for an external flash the on/off button seven position wheel and shutter release. The left side has anchor point for neck strap while the right side has a similar point as well as a rubberised door that conceals the USB & A/V socket and DC input. The base has tripod anchor point and a door hiding the solid battery and SD card insertion point. This leaves the busy back of the camera to describe.
There is a 5x4cm TFT that does not seem to suffer much with sunlight still giving a true image. To the right of this in an L shape are four well marked buttons for the down stroke and another for the bottom line of the letter. In the right angle formed by the shape is the ubiquitous five position joystick, finally towards the top right side the zoom in and out used for viewing captured images on the TFT screen.
Is not having a zoom a problem possibly, but assuming you have used a high enough resolution you can zoom into a portion of the image at time of printing. But with other units having zoom this makes this stand out.
There is a 122 page manual with a lot of useful information and while you need some knowledge to use this unit you will also learn a lot by using it or your images will be naff. A bit like learning to drive on an automatic and then using a manual gearbox car (yes I know you can't do that these days) you have to rethink things.
There are four still image sizes High 2640x1760, Wide 2640x1485, Medium 1872x1248 and Low 1312x880, my advice stick to high as you will be wanting to cut out a lot of the image just to print the bits that you want to.

click image to enlarge
It can capture movies (videos) but only at 320x240 which leaves it far behind most other recent units that can capture HD. One interesting feature is a dedicated audio (.wav) capture feature, in this mode no image is captured just the sound.
The shutter speed is worthy of mention but don't try the slower speeds unless you have a rather good tripod attached as they range from 1/2000th to 15seconds. I think the lack of flash is explained as 30cm to 3metres on auto and 30cm to 2.1 metres with an ISO200 setting. Most point and shoot claim nearer 4metres as the flash range.
Not quite sure where this Sigma offering is aimed at, surely not a novice who would very soon check it in a corner in disappointment at not getting good images. I also doubt that the professional would use it as they love their interchangeable lenses. So I assume it is somewhere in between, for people who like to work out problems.
If you feel up to the challenge certainly get an external flash that fits the shoe so that you have the ability to take poor light shots. With good lighting and a decent tripod this can take excellent shots.
Doing my Internet searches found the Sigma DP1x at £619.99 including free delivery.
http://www.amazon.co.uk/gp/product/B0042VJCXY?ie=UTF8&tag=gadge0a-21&linkCode=as2&camp=1634
I found the Sigma DP1x at $500 including free delivery from Amazon on the following link - which compares very favourably to the UK price of £619!
http://www.amazon.com/gp/product/B0013DCOZC?ie=UTF8&tag=gadge0a5-20&linkCode=as2&camp=1789
I found the Sigma DP1x available for €549,00 including free delivery from Amazon on the following link:
http://www.amazon.fr/gp/product/B0042VJCXY?ie=UTF8&tag=gadge04-21&linkCode=as2&camp=1642