Canon Ixus 990IS Digital Camera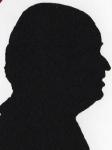 Another in a superb range of small digital cameras from Canon. This is the forth one I have looked at in the last three years. This one has three subtle tones from silver to grey and it looks are pleasing even to a style dunce like me.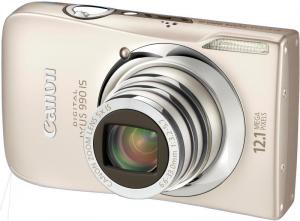 The Canon Ixus 990IS Digital Camera measures 9x5.5x2.5cm and weights 180grams. The last figure, the width, can extend up to 4cm more when on full zoom.
The rear is dominated by a huge 6x4.5cm TFT display and it is reasonable in all but the strongest sunlight. To the right of this are four triangular buttons two above and two below the ubiquitous five position joystick. I suspect all but the real camera novice will know what these do from their illustrations. The right side has two covers over the HDMI out and A/V out sockets and between these is the wrist strap anchor point. The left side is bare. The base has the tripod screw as well as the solid battery entry point which also holds any SD or MMC card you might use. The front has the lens and the flash that is mounted above and to the left by at least 3.5cm away. This leaves the top that has a three position slider for movie, still or auto. The small on/off button and the larger shutter release button that has the wide angle/telephoto control around it.
The box has four different Getting Started Guides (English, French, German and Italian) as well as A/V leads but no HDMI lead.
A full manual is provided in PDF on the provided CD but the 36 page getting started guide should do that for most. With most larger camera shops and chemists having the ability to print images direct from camera cards the PC becomes less important and therefore it becomes a hope that a full manual could well be provided in the future as well as the HDMI cable (a standard TV to external device will not do) as like USB not all are full sized.
12MP 4000x3000, 8MP 3264x2448, 5MP 2592x1944, 2MP 1600x1200, VGA 600x400 and widescreen 4000x2248 are the available resolutions. It clearly states at each of the resolutions how many images at that size should fit on any inserted card and what size a good quality image should print to for instance the 5MP size should easily be good enough for an A4 image. Each of the six modes has two compression modes fine and normal, so there are a total of 12 ways to fill your memory.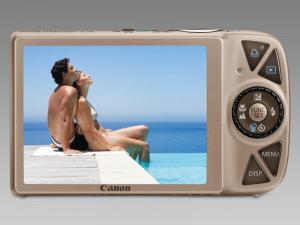 click image to enlarge
There are three modes for shooting movies 1280x720, 640x480 and 320x240 all capture at 30FPS. A 30 second clip at 640x480 will take around 38MB of space. However when you are in movie mode the screen displays not the number of images available but the far more useful amount of time in minutes and seconds you can record for.
I found even in poor light that the flash worked well at up to 3.5metres and most other small cameras struggle to get up to 3metres, that is a good plus. The 5x zoom works well but unless you have extremely good control over your hands I would suggest bracing yourself on something solid to capture images taken at near to full zoom. Otherwise put the camera on something solid like a wall to avoid the dreaded camera shake, modern technology helps a great deal and a couple of images taken with a camera of a few years ago with one of today's vintage bear little resemblance to each other even if they had the same zoom ability and an equivalent lens. However should you want to take images at distance your best investment will be a small tripod.
This is an amazingly easy to use small (pocket) camera that can produce excellent images even when used in auto mode and again I have no hesitation in awarding this a 'highly commended' award.
Doing my Internet searches found the Canon Ixus 990 IS at a best price of £256.89 including free delivery from the first link below.
http://www.amazon.co.uk/gp/product/B001T9NH0Q?ie=UTF8&tag=gadge0a-21&linkCode=as2&camp=1634