Canon PowerShot SX200is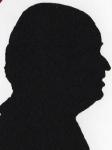 Review controls
This is a little larger than the very popular Ixus range but still a good deal smaller than a DSLR or DSLR size type of unit. It certainly feels a little more meaty in the hand than its smaller sibling.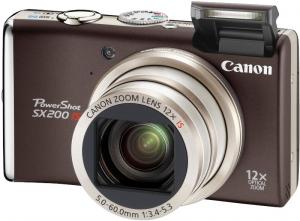 click image to enlarge
The PowerShot SX200is from Canon measures 10x6x4cm and weights 237grams, mine was a chocolate brown colour with chrome edges and lens surround. The lens moves out by up to 5cm and when the flash opens it is a minimum of 4cm from the lens.
The 12x zoom is quite impressive and while it works well items taken at full zoom will need either a very firm hand or a tripod to get razor sharp images.
Going round the camera the face has the lens and the flash although the latter when open protrudes over the top of the unit. The left side is clear and the right side has a door covering A/V and HDMI out as well as a wrist strap anchor point. The base has the solid battery cover that also is the insertion point for SD card. The top has the on/off button with 13 position wheel beside it and towards the right the shutter with the telephoto / wide angle control around it.
This leaves the back that is dominated by the 6x4.5cm TFT display with to rows of two buttons and the ubiquitous five position joystick in between. Near the top of the right side of the back is an indent for your thumb this makes the unit sit naturally in the palm.
This is a 12MP unit and the highest setting 'L' gives you 4000x3000 images this can support an image up to A2 in size, next down is M1 this is 8MP 3264x2448 that can give an A3 image. M2 is 5MP 2592x1944 easily enough for an A4 image. M3 is 2MP 1600x1200 for 15x10cm images. S is VGA (640x480) and ideal for emailing. Finally W this is 4000x2248 for wide prints ideal for viewing on a modern TV. Each has 'fine' or 'normal' compression so I make that 12 ways to fill what ever SD you are using.
Of course as with all modern digital cameras you can also take movies in standard mode (30FPS) you can take images at 320x240, 640x480 and 1280x720 the latter gives images better than a lot of camcorders. Being a recent unit it also supports SDHC cards and even a 4GB card will only take 21minutes and 30seconds of video in the 1280 mode. A card of 4GB would take 1230 12MP images and nearly 2700 images at M2. All those figures are the predictions given when you first move the settings down to a particular size of image. The actual figure will vary according to the detail in the images you are capturing but it is a good indication.
Having recently reviewed a camera that you have to open the flash before it will fire (unusual) here I find one that flips it open automatically even when not required but here is the unusual it also closes it automatically when you switch off (also unusual).
Needless to say there are numerous scene modes and photo effects performed in the camera as well as several continuous shooting modes that can continue until the card is full. Another feature that is in demand is the inbuilt red eye correction during shooting as well as at playback.
Image quality is excellent and the flash works well (the extra distance from the lens helps) I found it got beyond three metres which for a small camera with built in flash is good.
I never like digital zoom except for checking an image in the TFT and smoothness of zoom and clarity this gives is excellent. One thing I often do at gigs is read the title on music from a sideways position and then zoom into the title and 10x reads a lot of information.
Around 280 shots per charge is good and if you are taking that many in a day you have a large card and have had a busy day.
Doing my Internet searches found the Canon PowerShot SX200is at a best price of £268.72 including free delivery from the first link below.
http://www.amazon.co.uk/gp/product/B001T9NGZW?ie=UTF8&tag=gadge0a-21&linkCode=as2&camp=1634
http://www.canon.co.uk/For_Home/Product_Finder/Cameras/Digital_Camera/PowerShot/PowerShot_SX200_IS/index.asp?specs=1&source=selector