FujiFilm Finepix F200 EXR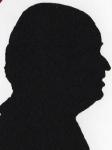 Review controls
This is a digital camera small enough to fit in the palm of your hand. Size however is no barrier to the number of mega pixels or the optical zoom it can produce, but before you jump to buy the largest zoom and the biggest mega pixel you need to qualify the image quality.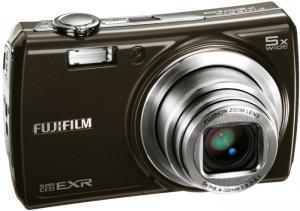 click image to enlarge
The FujiFilm Finepix F200 EXR measures 9.5x6x3cm and weights 192grams. Mine was black and silver.
This unit has a huge TFT screen that at 6x4.5cm totally dominates the back of the unit. Squeezed in the remaining space on the back is a wheel the ubiquitous five position joystick and four small touch buttons. The left side is bare; the right side has a door covering the USB, HD and A/V outlet as well as wrist strap anchor point. The base has a tripod anchor point as well as the solid battery and xD/SD card door.
The face has the wide angle lens with the small built in flash above and to the right of it at least 2.5cm away. Finally the top that has only the on/off button and the shutter release with the zoom/wide angle control around the outside of the shutter release.
Fuji are one of a very few manufacturers whose cameras accept more than one card type as they take both xD and SD cards. I note from reading the specifications that this one will also accept SDHC and this could be useful if you intend taking large movie images as SDHC cards are sold with far larger capacities.
The 5x zoom lens can work at F3.3 (wide angle) or F5.1 (telephoto). The 35mm equivalent is 28 to 140mm. I found just over twenty different shooting modes for those able to advance beyond 'Auto'. One of my normal tests is to read the title from a sheet of music mounted on a music stand around 2.5 metres away taken in 'M' mode and then viewed on the display and magnified and even with hand written music this was successfully done.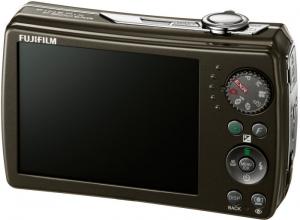 click image to enlarge
Its Macro mode allows items to be captured as close as 5cm in wide angle this figure is 45cm. This can take images up to 12MP; using the 'F' button it is easy to change image size. You have 'L', 'M' and 'S' but not just in 4:3 but also 3:2 and 16:9 so nine different sizes. Each of these can be saved in 'Fine' or 'Normal' compression. From the same button you can choose four different ISO standards and no less than five Film Simulation types. An 'M' image using normal compression will take around 1.5MB of card space.
I was very happy with the quality of images I took in 'L' and 'M' modes the depth and sharpness of images was fine. I printed a number of the 'M' images at A4 and everything was crisp and sharp. Flash was fine up to around nine feet (close to three metres) but beyond that the image faded into the background and sharpness was lost.
Recording movies was also fine in both 640x480 and 320x240 (both 30FPS) the former will use around 70MB of card space per minute and anyone wanting to use it for any length of time would do well to a SDHC card with a larger capacity.
The unit of course has image stabilization as well as face recognition and red eye removal during capture. With 5x zoom the image stabilization is important as the slightest tremor is only going to be enhanced with a lens that protrudes up to 4cm. My feelings about face recognition are mixed certainly the green marking go round a face and one assumes the camera makes calculations based on this but I am yet to be convinced. As far as red eye none of the images I took during the review period had any so I must assume this feature works correctly.
Doing my Internet searches found the FujiFilm FinePix F200EXR at a best price of £238 including free deliver, a significant saving over the RRP. available for $360.29 including free delivery. available for €299 including free deliver. The second link gives you a chance to look at the camera from most angles, while the third link give you the full list of specifications.
http://www.amazon.co.uk/gp/product/B001SN6XQI?ie=UTF8&tag=gadge0a-21&linkCode=as2&camp=1634
http://www.amazon.com/gp/offer-listing/B001R23JMQ?ie=UTF8&ref_=dp_olp_new_map&qid=1242774406&sr=8-1&condition=new
http://www.amazon.fr/gp/product/B001SN6XQI?ie=UTF8&tag=gadge04-21&linkCode=as2&camp=1642
http://www.fujifilm.co.uk/consumer/digital/digital-cameras/advanced-compact/finepix-f200-exr/Design
http://www.fujifilm.co.uk/consumer/digital/digital-cameras/advanced-compact/finepix-f200-exr/Specs