Microsoft LifeCam VX-7000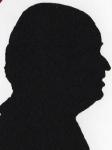 It is described as a notebook web cam, I see no reason why it should not be used with any flat panel and even with a CRT monitor, the latter maybe with a couple of sticky pads.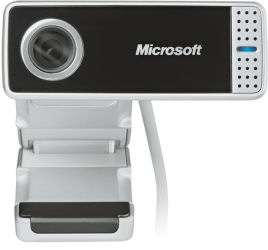 The Microsoft VX7000 is 6.5cm wide and 2.5cm tall, the camera is 2cm deep but there is a weighted articulated arm behind this that folds over the top of the panel.
It has a 1.35metre USB lead protruding from the back base of the camera. The camera is grey apart from the face that is black with chrome trim round the lens and on the right edge where the inbuilt microphone is. If you add a chromed button on the top you have described everything.
You need to install the software before attaching the USB lead to the PC. It will refuse to install on any PC not running Windows XP SP2 or later or Windows Vista.
While on the bad news it will not respond to the button on the top unless you install the 'optional' Windows Live. You can of course operate it from inside the software provided.
The main use these days for a web cam is for moving images while chatting over VOIP or Skype or other methods of communication. I installed it on a desktop and a notebook PC the desktop had a flat panel and it hang easily over the top of it. I chatted without problem with others using Skype and in fact it detects Skype during the install and gets the required permission to attach itself.
It is quite interesting having a video conversation with someone you may never have met face to face and providing both parties are willing it could be a fulfilling experience.
I have seen better and larger image sizes with a different manufacturers product but again only with their own software. If you used it just as a TWAIN device there was little to choose in the quality.
Once you have installed Windows Live then this product comes out of it's shell you can swap photos in real time. Setting up a video call is simple and easy using the call button on top of the camera. LifeCam Dashboard allows you to add special effects and control the webcam all from within Messenger. Easy uploading of photos to your blog within Windows Live Spaces.
The 2mega pixel camera performs better within the 'Live' environment, and also works in low light again it seems to produce better images in the 'Live' use. I tried the same things on the PC without 'Live' and a less powerful notebook with 'Live' so I suspect that it's full capabilities are held for the 'Live' use.
The glass lens is stated to have a 71degree capture zone so more of the area near the web cam can be captured.
Certainly should you use Windows Live then this is a perfectly good web cam, however my tests without it were disappointing and really with the PC being more powerful than the notebook things - if anything - should have been the other way. If like me you have an MSN account you will have no choice as collection of messages in Outlook Express is due to end in July. While the Live environment works and messages can easily be sent and received it certainly smacks of Big Brother as Microsoft decides how your messages will be collected. Here with this web cam to get the best you need to install 'optional' software.
Doing my Internet searches found the Microsoft LifeCam VX7000 at a best price of £49.99 including free delivery from the first link below.
http://www.amazon.co.uk/gp/product/B000TSNUN2
www.microsoft.com/hardware/digitalcommunication/productdetails.aspx?pid=011