Canon Digital Ixus i7 Zoom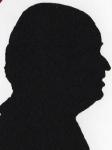 Really small in size, it will easily fit in a shirt pocket without appearing in the slightest bulky. Is it however reasonable in zoom and good in mega pixel, could this be another Canon winner?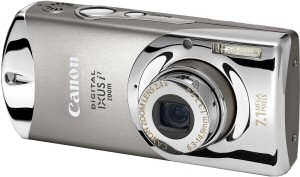 First the size it is 10x4.5x2cm and weights less than 150grams. Silver in colour part shiny and part matt. The unit is supplied with a dock that can be used to transfer images to the PC and must be used to charge the solid battery. There is a 4x3cm TFT display on the rear that is easy to read in all but the strongest sunlight, there is - not surprisingly - no viewfinder and I can see that taking images in strong sunlight could be a problem.
Given the small size you might think that there would be lots of controls and buttons, not so, the back to the right of the TFT display has three buttons a four position joystick and a three position slider. The illustrations should make all their purposes clear. The top has the only other two buttons, while the right side has an anchor point for the wrist strap and entry door for the SD card. The base has an anchor point for an optional tripod and the fitment for the camera dock. All in all far less buttons than most units however this does not mean lack of functionality.
Regular readers will know that one of only two 'five smiley' reviews so far this year was the Canon Ixus 800iS, can this little tiny unit challenge that?
The optical zoom on this unit is 2.4x and while it is okay it is not outstanding my modern cameras of course the size of the unit prevents a huge zoom. The 7.1 mega pixel size means that a great deal of detail can be taken into images. I often moan about the lack of a decent sized SD/MMC card, this is mainly down to retailers but the 16MB card shipped with a 7.1 mega pixel camera is totally inadequate. However with card memory being currently so cheap buy yourself a couple of 512MB cards so you always have available storage.
There are seven shooting modes L, M1, M2, M3, S, Postcard and Wide. Their resolutions are 3072x2304, 2592x1944, 2048x1536, 1600x1200, 640x480, 1600x1200 and 3072x1728. The Function set button will tell you instantly how many images are available for whatever card you have inserted at the time. For the supplied 16MB card that's 7, 10, 16, 26, 88, 26, 10.
I found the tiny built in flash ineffective at more than a metre or so. In fact in reasonable light providing you can keep the camera steady far better images were taken if you turned the flash off. There was more definition and certainly far more brightness and sharpness. However the subject does need to be stationery. In fact even in daylight there is a lag between pressing the shutter and the image being taken. This unit is not the one for fast moving sport.
To me this is an average camera doing some jobs well and some poorly and I think giving it the same name as the excellent 800iS Ixus that I reviewed earlier this year does the Ixus brand a disservice.
The minus points are lack of viewfinder, poor flash and small zoom. If none of those is important to you then it looks stylish takes good still images and fits easily into the smallest pocket.
Doing my Internet searches found it at a best price of £175.96 including free delivery. I see from my searches that they are available in several colours so should a lady like pink - and I know of not many who do not - then that is an option, see the second link for the full choice of colours available.
http://www.amazon.co.uk/Canon-Digital-Camera-7-1MP-optical/dp/B000IMGRFC
http://www.canon.co.uk/For_Home/Product_Finder/Cameras/Digital_Camera/IXUS/Digital_IXUS_I7_zoom/index.asp