Epson Label Printer LW-400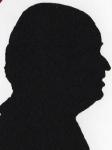 Review controls
When you think of label printing you tend to think of Dymo, as I discovered earlier this year Brother makes label printers and now I find so do Epson, here I am looking at their latest offering the Epson LabelWorks LW-400.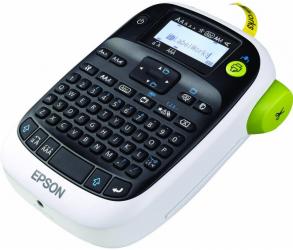 Of course early label printers were onto impressed metal and you stamped them out one at a time with a revolving wheel, yes I know even Dymo moved into the 21st century but this unit is more like a tiny computer as you are able to store designs, templates and it can even print barcodes all on adhesive tape strips.
It is 17x12x6cm and weights 456grams. Mine was a creamy white with black keyboard and a sort of lime green button on the side.
It can be run with six 'AA' batteries or the supplied AC adapter. Once you have inserted the batteries or attached the power adapter insert one of the two provided tape cartridges in the rear as per the illustrations in the large sheet of paper that is the User Guide. Getting this far is 50% of the sheet. I suspect that for some time you will keep the rest folded into a double sided A4 sheet as it covers changing fonts, altering font sizes, applying font styles, using symbols, barcodes, creating folded tab labels, printing vertically and much more.
I have used other such items but this is certainly the most comprehensive and while you can print a label instantly, to do all the things mentioned above will take practice and will probably involve reading this sheet several times.
According to the Epson website each label can be up to four lines, it is versatile with eight standard barcodes, fourteen fonts in five sizes, it has no less than 487 built in symbols, 87 borders in ten styles which include, bold, italic, outline and shadow. The tapes come in four different widths six,nine twelveand eighteen mm widths.
The two tapes supplied are black on yellow and black on white, but a range of others are available to be purchased.
The most likely things to be immediately labelled are plugs and switches. If you have four identical black plugs in a gang socket or surge strip you do not want to play Russian roulette by removing power from the PC when you meant to remove the printers plug. Likewise when you have a row of switches either for lights or other controls you need to know which is which and a simple short adhesive label by the switch or on the plug does this.
I found printing in whatever size or style was straightforward – providing I had the folded User Guide to hand – and the print clear and easy to read. The tape needs to slightly squeezed to reveal the split in the back covering so it can be pealed off and then during my review period anything I labelled stayed labelled without problem.
The unit has a 4.5x2.2cm display and to the left of it is on/off button and to the right of it the print button on the right side beside this is the green label cut button once it is printed. These are obvious however the next two lines of four and six symbols are less immediately obvious and the ubiquitous five position joystick in the middle together with five of the buttons having dual jobs means RTFM. The next four lines are all alpha numeric and fairly obvious then finally six more symbols in a curved bottom line remind you to RTFM once more.
Certainly – for me anyway – a learning curve but once learnt a label can be produced in seconds and not just a basic 'Printer' or 'PC' but labels that can convey results by symbols and barcodes and remember all in its own memory.
The Epson Labelworks LW-400 is available from the first link below for £82.51 with free delivery.
http://www.amazon.co.uk/gp/product/B005KP17SO?ie=UTF8&tag=gadge0a-21&linkCode=as2&camp=1634