Two Microsoft Hardware Items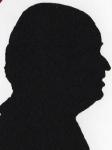 Everyone thinks of Microsoft and software in the same breath, mainly for the operating system but of course there is Office and other programs such as AutoRoute as well. Here I am looking at two items released recently.
Microsoft ARC Keyboard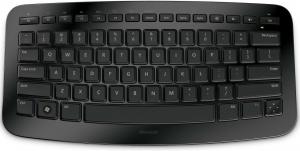 Overall this takes around 50% of the space a normal keyboard takes. On a desk this may not be that important but in the lounge or on the move every inch (or lack of an inch) counts. It is 31x15.5x1.5cm.with the supplied 2x'AAA' batteries inserted. The tiny 1.8x1.1x.4cm wireless dongle fits under the keyboard when travelling.
Plug it in to any USB port and a few seconds later you are typing. It has 76keys including a single four way action key for the direction arrows. All the keys (apart from function ones) are full size at 1.5x1.5cm and are well spaced.
The keyboard itself is slightly convex and the front and sides are only.2cm thick. It comes with a carry slip case.
There is an instruction booklet and a far thicker one with the normal warranty and safety instructions inside it.
It was very easy to type and I can even see people using it near phone/PDA type using it with two thumbs while holding it in the fingers. As I was brought up on a manual typewriter I always feel I need rake but here it seems natural with the convex shape moving you naturally up towards the centre of the keyboard, novel but nice.
The Microsoft ARC Keyboard is available from the link below for £34.64 including free delivery.
http://www.amazon.co.uk/gp/product/B0036TGQFA?ie=UTF8&tag=gadge0a-21&linkCode=as2&camp=1634
http://www.microsoft.com/uk/hardware/mouseandkeyboard/productdetails.aspx?pid=132
Microsoft Wireless Mouse 2000
After a tiny keyboard comes a full size mouse. Like the item above this is wireless so no wires to get tangled in things.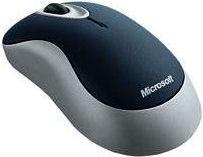 It is 11x6x4cm and weights 150grams with the two supplied 'AA' batteries inserted. As with the more modern trend there are not distinct buttons but anywhere near the ends either side of the scroll wheel with click.
The mouse is black with a silver grey top apart from the scroll wheel part that is black. The only control is an on/off slider on the base to save batteries when not being used for long periods.
The wireless receiver is 4.6x1.5x.7cm and can fit under the mouse when not inserted in any USB port of a PC or notebook.
Like the keyboard above even Windows XP will recognise it and no extra drivers are required. A few seconds after plugging the mouse receiver in you should be able to use the mouse without any real time delays.
Like the keyboard above there is an instruction booklet – insert batteries in the mouse, plug the wireless receiver in a USB port – and a thick wedge of warranty and safety instructions about the use of the mouse.
If you like a large well humped mouse then this will suit and I found it responsive and easy to move without wire restraint.
Doing my Internet searches found the Microsoft Wireless Mouse 2000 at best price of £12.90 from the link.
http://www.amazon.co.uk/gp/product/B000GSS8J6?ie=UTF8&tag=gadge0a-21&linkCode=as2&camp=1634
http://www.microsoft.com/uk/hardware/mouseandkeyboard/productdetails.aspx?pid=126