Samsung Laser Multifunction SCX3205W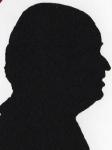 Unless you need to print colour pages this is a very efficient way to work, I often need to print single pages this has virtually no warm up time. I scan single pages to print again very quick and finally email the signed page once scanned also very efficient.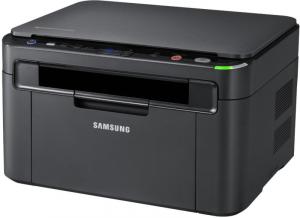 click image to enlarge
It has a small footprint at 36x30x22cm, you will need a little more space above the 22cm height in order to lift the scanner lid. 11cm of the 30cm depth is just at the base for the open input paper tray, face up input face down output.
There are a total of nine buttons on the front top edge (in front of the scanner lid) but apart from the on/off button on the left of these you really only need to go near the unit to top up the input tray and collect the output when printing.
The default copy/print number can be incremented and it displays of a small 2x2cm window in the centre of the display area.
You can connect via USB, Ethernet or Wireless and the latter might have selling advantages as far as the lounge police are concerned.
As with most All In One products you can copy direct from the unit without Windows being on or even connected. I found a 9cm lift of the lid more than enough to slide a single sheet in or out from the flatbed unit. Insert the sheet press start and a perfect monochrome copy is delivered six yes SIX seconds later from the output tray just under the scanner unit.
Yes this is mono only for printing and copying but you can scan colour images. I found an A4 colour page scanned in ten seconds from the front screen of the Samsung scanner program. The interface is straightforward with the ability to scan Glossy Photos, Normal Photos, Magazines, Newspapers, Text/ Photo or last used setting all from a drop down list. You can of course rotate, flip or select the area to scan from a preview.
While the claimed print speeds for inkjet printers are becoming more honest (well somewhat) a laser always prints at the stated speed and not just for a short two paragraph letter but anything. One such example is a rather large File Maker database that I print occasionally. This consists of three columns each page is 42 records and this is printed at four pages to an A4 page and as the content is intense I suspect there is almost as much black on the page as white. This database is close to 200 pages and prints onto 48 pages in less than three minutes.
While the claimed print speed is 16PPM I got just over 17PPM when printing my database mentioned above. No disregarding the first or last page just take the time from first page in to last page out, I also use a range of papers and never got a single paper jam although I always mix weights and types during all of my testing periods.
Unlike early wireless units the connection to most routers is literally a one button setup no needing to know codes. It also has a rather good eco mode and goes automatically into standby without you needing to intervene. There is also eco print mode that allows you to save toner and even this setup is very simple to implement.
Providing you do not need to print or scan colour pages then this is a great little workhorse and with the latest operating systems so easy to print to using Wireless, however should you use Ethernet you are not forgotten and USB is still available for those who have just the one machine and therefore do not need a network.
Doing my Internet searches found the Samsung SCX 3205W at a best price of £126.78 from the link below.
http://www.amazon.co.uk/gp/product/B003VET7BU?ie=UTF8&tag=gadge0a-21&linkCode=as2&camp=1634
http://www.samsung.com/uk/consumer/print-solutions/print-solutions/mono-multi-function-products/SCX-3205W/SEE/index.idx?pagetype=prd_detail