Getting Started With Word 2013

"Step by Step" and "Plain & Simple" are two Word 2013 books from the Microsoft Press. As well as teaching the new user how to use the program, they each also cover new features which increase Word's versatility especially in the areas of cooperation. They each adopt a different approach and so one can choose the one that best suits one's needs.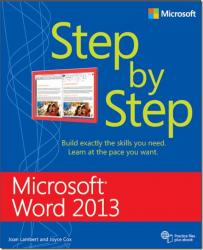 click image to enlarge
As one would expect from its title, the former adopts a structured tutorial approach with the first part covering creating, printing and distributing standard documents. While this part includes columns, tables and simple graphics, one needs to go to the second part for enhancing the document with diagrams, charts and other visual elements as well as well as saving documents in various formats.
Part 3 deals with the aspects that will be more important in a business context. Templates, mail merge, table of contents and bibliographies as well as collaborative working tools such as tracking and managing document changes are among the task covered. Importantly, the URL is provided to enable the user to download the practice files needed to complete the exercises in this book. Hence, overall, one can learn at one's own pace and so end up with a good overall knowledge of how to use the program to meet one's needs.
In Plain & Simple a task orientated approach has been adopted. Although it assumes that the user has knowledge of fundamentals such as some experience of Windows and has used a word processor, other basics including the Ribbon and the Quick Access Toolbar are covered.
Overall, there are seventeen sections each of which has a contents page listing the particular topics to be found. The section introducing Word 2013 covers the changes in this version and then is really a revision exercise in using a word processor.
Creating and revising documents is the title of the next section which then leads onto creating and improving the text and then formatting text for best appearance. Among the other sections there is one on the use of images and illustrations and then one on adding one's own artwork. The section entitled mailing paper or pixels covers the printing of envelopes and labels as well as mail merge and emailing documents. Sharing and co-authoring; ensuring privacy and security as well as customising Word are also covered.
Those who are starting out with Word, or have not progressed much beyond the basics, will find that Step by Step will be best suited to their needs. On the other hand, the experienced user who wants to get to grips with a rarely used – or not previously used – feature, will find that that Plain and Simple will be more useful.
Microsoft Word 2013 Step by Step by Joan Lambert and Joyce Cox has 550 pages printed in B&W while Plain & Simple, by Jay Freeman, which makes extensive use of colour has 450 pages. Their list prices are £22.99 and £18.99 but are available on Amazon at £14.71 and £15.99 respectively.