Serif's PagePlus becomes more versatile

Serif's PagePlus has been around for a number of years and has established itself as a useful and versatile DTP package that is relatively easy to use. This latest version, PagePlus X6 adds a number of additional features which increases its scope so that, if anything, it has become more versatile and easier to use.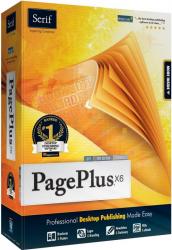 click image to enlarge
To a large extent PagePlus is targeted at people such as club secretaries and busy professionals for whom DTP is not their sole occupation but still need to produce good quality documents. It incorporates useful context sensitive help files to make it easier to come to grips with features that one only uses occasionally. The 300 page User Guide is available as a PDF file and in addition, there are a number of online tutorials which will be of major help for both the user who is new to PagePlus as well as the more experienced user who wants to use rarely used features.
If you don't want to start from square-one with a blank sheet of paper, there are a wide range of templates ranging from letter heads and business cards through to menus and newsletters to help one get started. Names and contact details etc. only need to be imported once when producing a full set of business stationery items. Furthermore, one can import a PDF file to use as your starting point. This could be useful if one needs to update an existing document. The new Asset Manager makes it easy to organise regularly used backgrounds, logos, images etc. and keep them readily to hand so that they can be speedily inserted into new documents.
Not only can PagePlus X6 output files in PDF/X-1a format, which is a widely used common printing standard, it can also open and handle them. Hence PDF documents can be edited and updated just like normal PagePlus documents. Furthermore, for those for whom colour matching is important, X6 comes with the recently introduced Pantone Plus Series and Pantone Goe System so as to improve colour matching and offering a greater choice of colours.
Ebooks are now catered for as PagePlus now supports industry-standard EPUB format for eBook readers, smartphones, iPads and other tablets as well as being able to save documents in the .mobi format for Kindle. Its improved handling of indexes and tables of contents will be useful to those preparing books or other long documents.
With the new Preflight Checker one can check for missing links or fonts, low image resolution etc at any time and so avoid any last minute panics and problems prior to going to press. However, just like a number of the special functions, it often takes a little while to find the necessary tab and learn how to use any one of the many extra features.
At a price of £81.69 incl. VAT from Serif for either the DVD or the download version it is far cheaper than an industry standard DTP package and yet will meet virtually everyone's needs and is therefore a sensible buy. However, it is an even better buy from Amazon at a price from £49.97.