A Cleaning Robot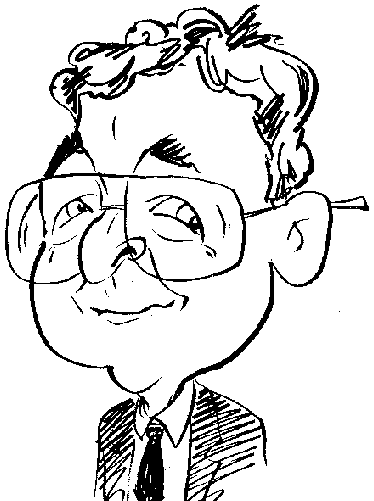 Review controls
Not to be confused with the I-Robot book of Isaac Asimov short stories or the I-Robot film staring Will Smith, the iRobot (note the slight difference in the spelling) Roomba is a vacuuming robot. I have been looking at the 980 model of this product which has been cleaning my maisonette.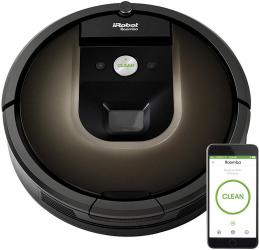 click image to enlarge
Forming the central unit of this product is the Roomba 980 robot. Circular in shape, just like every vacuuming robot I have seen, the Roomba robot has a diameter of 355mm and a height of 110mm including the heavy-tyred pair of wheels. Decked out predominately in a combination of lacquered and matte black, the Roomba has the appearance of a weighing machine that it might be wise to avoid if you felt a collision might occur between your feet and the device. Fortunately I, generally but not always, managed to avoid such a situation.
Decorating the top of the Roomba is a silver Clean button sandwiched between indicators for WiFi and troubleshooting on the left and a battery indicator on the right. The top also houses a RCON sensor, handle and an iAdapt Localisation Camera so that it can recognise its surroundings, locate itself and identify obstacles apart from my feet.
The base of the Roomba is where the main action takes place. I have already mentioned the heavy-tyred wheels on either side of the unit, which provides the vacuum robot's ability to traverse its designated area of cleaning which can be as much as 2000 sq feet of hard or carpeted floor. Supporting a tri-arm brush mounted on the side of the Roomba base is a centrally positioned pair of rollers for gathering dust. Dotted around the base of the Roomba are five Cliff sensors plus other sensor for floor tracking and contact charging points.
When it comes to charging the Roomba device, this process requires the use of a charging station which needs to be connected to an appropriate power source. The Roomba has been programmed to recognise when it needs a battery boost and will make its way to the charging station for a refill and then return to continue its previous vacuuming task from where it left off when "its call of nature" was felt.
While the Roomba's battery was meant to arrive with a partial charge to help the user get started, I found I needed to immediately instigate a charging session before I could get anywhere. What did not help was that I had been sent a unit with a two-pin power lead rather that the correct three-pin lead. Fortunately an appropriate adapter was conveniently available.
In order for the Roomba to perform its designated duty, you need to download the iRobot Home app from the App Store or Google Play depending upon the make of your smartphone. In my case I downloaded the app from the Play Store and immediately created a free account for my Roomba 980 vacuuming robot. Using screen prompts, you can work your way through a set-up process that includes entering an email address, password and giving your device a name (I opted to be less than creative and named my unit "Roomba". Various WiFi connections will be made to the vacuum and the Home Charging Base with vocal acknowledgements which include a reminder to charge Roomba. As this charging process can take up to 3 hours, I reckoned I could put this time to good use with a cup of coffee and a biscuit-barrel raid.
Once the set-up procedure and pairing of the Roomba, to the smartphone hosting the iRobot Home app has been completed, you will be able to control the Roomba using the smartphone. The silver Clean button and those indicating WiFi and battery level will glow with the Clean button emitting a pleasant green colour. In operation, as the Roomba goes about its vacuuming duty, this device is certainly louder than a competitive product I looked at recently although I was unable to hear it when it was working in a different room to myself – I also felt that the set-up procedure was not as straightforward as it could have been.
Tackling various rooms and the main corridor running alongside these rooms, was accomplished with just a few minor problems. Most of these incidents concerned my feet which had the habit of attracting the Roomba to them whenever they were in the same room. There was also one occasion when I caught the Roomba attempting to swallow a power lead that had come detached from another device that was supposed to be recharging. I needed to turn off the Roomba and then slowly extract the lead from the Roomba's innards. Generally the Roomba was able to cope with a variety of surfaces without any problems. It was also able to reduce its height by withdrawing its wheels into the body of the device, thus enabling it to get under certain pieces of furniture. I should point out that the Roomba managed to trap itself in the exact same location as the Deebot reviewed earlier – I have no idea what was so enticing about that corner of my bedroom.
Using the iRobot Home app to control the Roomba, you can start, pause or stop a Clean operation; adjust settings relating to a carpet boost when such a surface is detected; opt for one, two or an automatic number of passes plus apply an Edge Cleaning facility. Schedules can be set for vacuuming to take place at specific times on a daily basis plus check on the area cleaned by viewing a bar graph. You can also adjust features that include bin behaviour (does Roomba pause or continue cleaning when it is full); WiFi settings; and whether to use metric measurements. The app will also provide feedback as to the status of the Roomba and report on a full bin load. I am ashamed to say this occurred more than once during the review cleaning of my maisonette.
One feature of the Roomba that I was unable to test was its ability to cope with steps. iRobot claims this vacuum robot should be able to manage a step or two with a height of 1.6cm. While this is not particularly high, my maisonette is on a single level with no steps whatsoever. When faced with a block of wood, doubling as a step, Roomba opted to take a detour rather than show its climbing skills. Maybe it felt the challenge was unfair.
Initially I struggled getting to grips wit Roomba but we became quite attached by the end of the review. I sometimes caught myself talking to the device but without any response from the vacuum robot. A quick check of the Internet reveals that the iRobot Roomba 980 could be available for £699.00 which is more than I paid for my first car.