Xpelair Skyscraper Tower Fan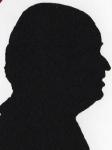 While the desk version recently reviewed is small enough to tuck away when not required this is a far larger offering that would certainly dominate any environment that it would sit in as it is close to one metre tall but it will cool a larger area.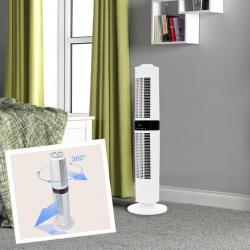 There are two distinct sections and the top area can cool one area and the lower section another, it can be used statically or rotating through a 90 degree arc.
The unusual thing is that the top can be twisted to a separate position than the lower part so two static areas or even two different 90 degree sweeps can be produced from the same unit.
It is 97cm tall and 15cm across apart from the base that is 28cm across.
The only assembly is the two half circular pieces of the base need to be clicked together before fitting to the base of the fan, it should be obvious but it is described in the A5 User Guide.
The top part of the fan that can be turned to any position, it has four columns of twenty five air vents 3.7x.7cm with only the lowest one being a dummy vent.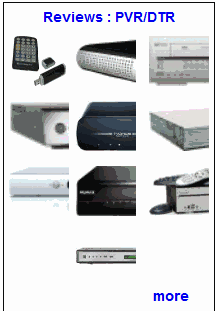 The lower part has four columns of twenty eight air vents 3.7x.7cm that can either be static of rotate through 90 degrees.
Joining these two areas is what looks like a black area seven centimetres deep. However at the front of the unit are five touch buttons that have LED's just above them for on/off, fan speed (choice of three), clock, fan type and rotation.
These options are duplicated on 7.5x3x.5cm five button remote control that is supplied with a circular clock type battery and it is stated to work within six metres given line of sight.
It's the same remote as in the baby sibling unit recently reviewed but as no imperial measurements are mentioned I have defaulted to metric measurements for this unit.
The sixteen page A5 User Manual is clear and explains in detail the difference between the various fan blower actions.
There is of course an ECO mode as any cooling requires electricity and if you choose ECO mode it will operate at low speed if the current temperature is below 25 degrees Celsius, Medium speed between 25-29 degrees and high speed above 29 degrees.

While there is a sleep mode as with its baby sibling I think this is likely to be used in an office space so hopefully no sleeping.
The run back mode is settable to one, two, four or eight hours and if not set it defaults to showing the current ambient temperature.
Having the ability to cool two areas means that both sides of a large office can be cooled simultaneously.
The extreme temperatures of last summer have returned and global warming makes these events more likely to occur with regularity.
The Skyscraper Tower Fan XPSS is available from the link below for £69.99 including delivery.
https://www.costco.co.uk/Cooling-Fans/Dimplex-Xpelair-Skyscraper-360-Degree-Rotating-Tower-Fan-XPSS/p/264635