WileyFox Pro Windows Phone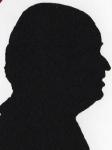 While the Windows phone seems for many manufacturers to be not the path to take with iOS and Android the winners left to slug it out between themselves in business we are told there is still a sector that needs/requires Windows phones.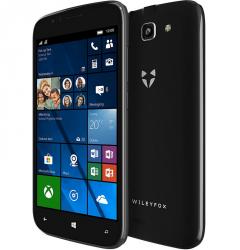 click image to enlarge
A dark blue box contains the phone, a micro USB charge cable and a card with instructions on how to fit the supplied 2100mAh battery.
As this phone is sold for business use you will probably already have a Microsoft account if not after a bit of faffing about it lets you create one. From then on its reasonably straightforward although I found for around the first half hour little could be done as 'Apps were updating' after that speed and use improved greatly.
After a couple of days use boot up settled at around 30 seconds and shutdown 6 seconds a full recharge from empty takes just over 90 minutes.
This unit comes with the 'Phone' version of Windows 10 and of course Windows 10 was made for touch and being a phone everything is touch with the exception or Cortana which can be used by typing or voice and the voice part works far better than a lot of PC's simply because as this is a Phone voice is vital, I gave Cortana several phases that could be confused with words that sound and can even be spelt the same and the context of usage was correctly interpreted, on a PC I am not a Cortana fan but here she works well.
It is 14.5x7x.8cm and weighs 150grams. The viewable screen is 11x6cm which gives the notional diagonal imperial measurement of 5inches.
It has 2GB RAM and 16GB of on-board storage of which 14.5GB is available with around 4.5GB used so actually just over 10GB is free. The processor is a Snapdragon 210.
The rear camera is 8MP while the front offering is 2MP.
If you are thinking of purchasing a Windows Phone bear in mind that Microsoft will only support it for another two years or October 2020 according to which part of various statements you read.
So let's start with the inside, the back prises off to reveal the 2100mAh battery and below this the micro SIM and Micro SD slots. The speaker is also on the back near the base as is the main camera and LED flash.
The right side has the volume up/down rocker and the on/off button. The base has a pin hole microphone. The left side is clear which leaves the top that has micro USB socket for charging and 3.5mm socket for earbuds or headphones.
I could not get my OTG device to work in the Micro USB charge port so I am assuming it does support this feature.
The main drawback for the casual phone user – and this phone is not aimed at him/her – is the lack of people producing Apps that work on this platform. It is firmly aimed at business and those who need 100% Microsoft across PC's and Phones.
It is possible to setup the device – eventually – without a Microsoft account but if you have one setting up is a breeze and all your files, folders and emails etc. will all be immediately available either on the phone or via Cloud services such as One Drive.
There is nothing new or 'special' about this solid device but if you must have a Windows Phone then it will fit the brief.
The Wileyfox Pro SIM free 4G phone is available from Amazon for £189.99 with free delivery for Prime.