Wahl Aqua Blade trimmer

Review controls
The Wahl Aqua Blade is the latest addition to the company's product range. It can be used wet or dry to trim or edge one's beard as well as shave one's head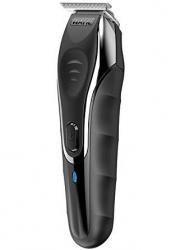 click image to enlarge
The contoured body, which is black in colour with silver trim, has non-slip grips and so sits comfortably in the hand. At its business end, it has a detachable 40mm wide T-blade head with its self-sharpening blades having an effective trimming width of 35mm and providing a close cut of 0.2mm. A set of eight clip-on combs are provided in increments from 3 to 25mm so that the hair or beard can be trimmed to a chosen length. There is also a set of four stubble guide combs which are used for "blending, tapering and defining" beards.
It is claimed that a full charge, taking up to 60 minutes, of its lithium-ion batteries provides a run time of 180 minutes while a quick charge of 1 minute will give 3 minutes of cordless use. This could get one out of a hole if one has forgotten to charge the unit and it dies on you. As the Aqua Blade is washable and can be used either wet or dry or even under the shower there is an important safety warning in the instructions stating that it should not be used whilst charging. In fact, it has been designed so that it won't run whilst plugged into the mains and charging.
The trimmer comes supplied with a convenient travel pouch in which one pocket can hold the trimmer and charger while the other takes all the combs as well as the cleaning brush and the tiny bottle of lubricating oil. It is recommended that a couple of drops of oil be applied to the blades approximately once a month.
To minimise the risk of the trimmer becoming switched on accidentally, while in its travel bag in one's luggage, holding down the on/off push button for 10 seconds activates the travel lock. The lock is released by holding down the button again for a similar period or, alternatively, putting the Aqua Blade on charge which automatically releases the lock.
In use, it is a straightforward task to select a comb for a particular length of cut as length information is moulded into each of them and then clip it onto the blade. One might then want to change combs if one has the point of the beard at a different length from the sides. Some men, however, might consider swapping combs is a bit fiddly and prefer the system, employed on some other trimmers, that uses a single comb together with a dial or similar form of length adjustment even though, with this method, there is a risk that the adjustment might slip.
I found that it cut cleanly without any "pulling" of the hair and that it only took a moment to flick off one comb and replace it with another. However when using it without a comb, so as to give a close shave, it is necessary to take care to get the angle right so as not to nick oneself and possibly draw blood. Despite this, with its versatility and powerful motor, I found it a very effective and convenient trimmer to use.
Wahl has been making electric hair clippers for almost 100 years and describes itself as the brand used by professionals. Hence, its personal care products merit serious consideration. The Aqua Blade trimmer which comes with a five year warranty plus a lifetime warranty for the blade (as long as it is used for domestic purposes only) is priced as a premium product at £89.99. It is, however, available on Amazon for £59.99.