An Asylum and Opera Combination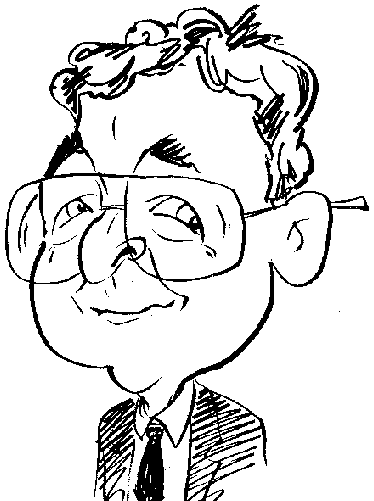 Review controls
As its title suggests Nightfall Mysteries Double Pack consists of two games. Bundles together by GameHouse, a popular gaming site, the two games are Curse of the Opera and Asylum Conspiracy. My review is written in the order I played the games rather than the order in which they were meant to be played.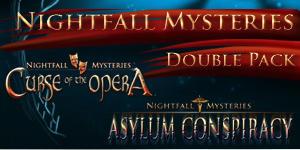 Developed by Vast Studios, Curse of the Opera is a Hidden Object Adventure game that is based around a group of travelling entertainers who put on operatic performances. Your role is that of a dogs-body or stagehand who seems to do the bidding of everybody else. Prior to starting the game, you can adjust the volume levels for music and sound plus opt for full screen game play and voice-over dialogue. Curse of the Opera is one of those games that does not have a choice of difficulty levels.
The game opens with a car crash incident that, for a short period of time, separates you from the rest of the troop as you are introduced to an interface that combines different mouse cursors indicating when certain actions can be carried out and an area across the bottom of the screen holding available tools. On the left is a journal recording your progress and a menu option. The game inventory sits in the middle with a notebook, listing your current task and a map, on the right. The notebook changes to a Hint feature during Hidden Object and puzzle game play which does give the clue that this feature is not available at other times although brief messages do appear on the screen from time to time to help make up for the lack.
Curse of the Opera does have a strong affinity with Hidden Object game play. Where ever you seem to look in this game there is an outbreak of sparkles indicating that a Hidden Object session is waiting to pounce on you. These interludes tend to take up one or two formats. You will either be asked to find 12 single items, listed in text format, or find a specific number of a particular item. Once either type of task has been completed then you will need to find another item, which can be used in some way, and this will reveal your reward.
While Hidden Object game play is everywhere in this game, puzzles are in very short supply. It is almost as if there is a limit of one puzzle per chapter quota. I felt that the puzzles in this game were amongst the hardest I have encountered recently. The instructions provided by the Hint feature were extremely basic and often gave little or no help as to what was required. Fortunately a Skip feature can be used to release any frustration before it comes overwhelming and allows you to make assisted progress.
All your contact with other characters seem to involve other members of the entertainment troop. Each section of dialogue will appear on screen in text format and be delivered by a voice actor as if they were merely reading from a script. A static headshot of the character will accompany the printed text.
With seven chapters of Hidden Object Adventure game play, Curse of the Opera should provide many hours of challenges as you sort out the problems facing the operatic troop. The second title in this Nightfall Mysteries bundle, Asylum Conspiracy brings about a complete change of scenery as you take on the role of Christina who is searching for her grandfather after receiving a letter suggesting he was at Ashburn Asylum in this Vast Studios offering.
As with its companion title, profiles can be set up for individual players. These profiles can contain the volume levels for music and sound effects plus whether to play in full screen mode with voice-overs and a custom cursor. There is no option to change the difficulty level of the game.
The game's action is centralised around the rather run-down and debilitated Ashburn Asylum and its grounds. As you move around the environment, the mouse cursor will change shape to indicate when different actions are possible while available tools are arranged across the bottom of the screen. On the left is your notebook containing clues and a map of the area. In a central position is the inventory holding the items you have collected. The game's Hint feature sits on the right.
While perhaps not as numerous as the Hidden Object scenes in Curse of the Opera, there are still more than enough in Asylum Conspiracy for you to hone your object searching skills. These Hidden Object sessions present you with a list of up to 12 objects in text format that need to be located within a cluttered scene. Once all the objects have been located, either by the player or using the Hint feature, you will be rewarded with one of the objects. Some scenes and items to locate are repeated from time to time. Generally I found the Hidden Object scenes to be slightly easier to complete that those found in Curse of the Opera.
At various stages you will be faced by puzzles that need to be solved in order to make progress. Following the pattern established in Curse of the Opera, these puzzles are accompanied by rather brief instructions that were not particularly enlightening. Both the type and difficulty level of the puzzles varied. A Skip option, appearing after a delay, can be used for any puzzle which proves too difficult.
As well as Hidden Object and puzzle game play, Asylum Conspiracy features a number of audio tapes. These tapes can be found in various locations and played on a recorder module to add background information. You can also read the text of the dialogue found on the tapes.
As you explore the asylum and the grounds, you can use the built-in map feature to identify your current position and targeted destination. Generally you will need to travel along the appropriate route as the map feature does not possess the ability to do it for you. On your travels you will meet other characters such as Alice, Alan, Victor, Viggo and Thomas. When conversations are called for you will hear the dialogue delivered by voice actors who appear interested in their role and displayed on screen in text format along with a headshot of the character. Mouse clicks are required to move through the sections of dialogue.
Of the two games making up this bundle, I felt that Asylum Conspiracy was the stronger title. The storyline fitted together better and there was more interaction between the characters with a better mixture of Hidden Object and puzzle game play. I had downloaded by copy of the product from GameHouse.com were it is available for $9.99. Game specifications call for a 1 GHz processor with 512 MB of RAM and 439 MB of hard disk space running Windows 7 and later.
http://www.gamehouse.com/download-games/nightfall-mysteries-double-pack