Tiny VAVA Dehumidifier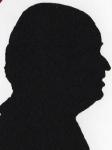 Having recently told you about a larger unit from Dimplex here is something a lot smaller and intended to work in smaller spaces such as maybe a damp cupboard or wardrobe rather than a larger room the main reason is the small water tank capacity.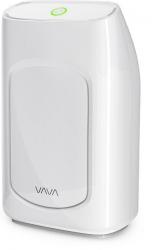 click image to enlarge
The VAVA Quiet Portable 700ML Dehumidifier measures 26cm tall, 15cm wide and 10cm deep, it weighs just under one kilo.
I used this in my small bathroom for a week and it extracted just under one litre of water that for those who have not converted is just less than two pints. The VAVA website talks of (US) oz of liquid which I find hard to follow but one litre was easily held although the maximum stated on the downloadable .PDF file is 670ml.
Having recently told you about a full size Dehumidifier this will extract far less but it so quiet that the only way you know it's on is the green LED on its top.
This is ideal for a large cupboard or wardrobe and not really able to handle large rooms the stated area is 108-215 ft². At the smaller end it is stated to remove 10oz in 24 hours given certain criteria shown on their website.
It comes with a 1.5metre mains lead to DC power brick. The mains lead via DC lead plug into the back 10cm from the base well above the water level even when cut off at maximum.
The stated water capacity is 16.9oz but it will still work till it cuts out at 20.3oz. The noise is stated at 33db but for me it's far less than that as I only heard it in a totally silent environment with my ear right beside it.
My unit was light cream in colour.
It is designed to reduce any musty smells which also mean that flowing air prevents bacteria growing.
There are no instructions on the box and although there is only one place to plug the lead into I see health and safety experts having a dance of anger.
Yes the .PDF file is converted to European measurements but of course whoever buys it needs to download the .PDF file.
On my first use – before searching out the .PDF file - I found it messy to empty after reading the .PDF file it was easy as there is a black rubber bung in one corner and once removed water flows out easily, replace this before you reinsert the storage container.
If you have a damp area maybe under a sink or a cupboard that smells musty then this unit may solve the problem for you, this is not suitable for large areas.
The VAVA VA-EE006 is available from Amazon in the UK for £39.99.