Sony Xperia 10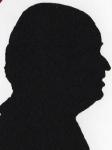 This phone is one for those who like to watch films as the format is taller and slimmer than most, of course it still does everything that a phone should it's just the screen shape that makes landscape use the most likely way to use it.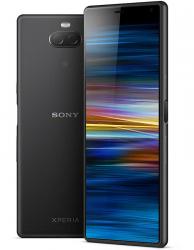 click image to enlarge
The Sony Xperia 10 measures 15.3x6.5x.7cm and weighs 162 grams. Startup is 20 seconds and shutdown is 2.5 seconds. The notional diagonal imperial screen measurement is 6inches.
Going around the outside the top has a 3.5mm headphone socket, the right side has the on/off button fingerprint scanner and volume up/down rocker. The base has the speakers with USB 'C' socket in the centre of the bottom. The left side has SIM entry point and also entry point for any micro SD card you use. The centre top of the back – 1cm down – has dual camera lenses with the LED flash very near the top above the lenses.
My unit was matt black matt and sides with the front being shiny black. Although shiny a lot of other phones are far more reflective and hence this was not terrible for finger marks.
In my tests the OTG device I tested in the USB 'C' slot did not function. That would mean that all those movies would need to be downloaded to the phone or you would need to remove and replace your micro SD card to get access to them if stored elsewhere.
During my tests I did not have any long work days so the battery lasted around three days without recharge.
As I mentioned the shape of the screen makes it ideal for watching movies when in landscape mode and I was able to do so and could see many using it to catch up on TV on the way home from work during train journeys.
The single speaker in the base is fine for noises but to listen to speech a set of headphones of earbuds would be required.
Also the box is a USB plug front and a USB 'C' to USB lead as well as a Startup Guide.
So now a few facts it has a 2870 mAh battery so even the heaviest user should get a day's use between charges.
The rear cameras are 13MP and 5MP while the front offering is 8MP.
It takes a Nano SIM. It has 64GB of memory and 3GB of RAM, I am told it supports up to 512GB of micro SD Card but as I have nothing near that size I take that on trust.
The 2520x1080 screen is 21:9 in ratio which is designed for movie viewing.
The processor is a Qualcomm Snapdragon 330 Octa-core processor with Android 9 and Bluetooth 5.
I found use of the on-board keyboard a little difficult as the reduced width in portrait mode and my stubby fingers sometimes not hitting the correct key and time undoing letters was somewhat frustrating.
I was more than happy with the images I took as I was with the 4K video and you even have a 120fps slow motion mode.
The Sony Xperia 10 is available from the link below on various contracts. £26 a month with no upfront charge is one which gives 1GB of data and unlimited calls and texts. £30 a month with no upfront costs gives you 5GB of data and unlimited calls and texts.
https://www.vodafone.co.uk/mobile/phones/pay-monthly-contracts/sony/xperia-10