Ring Stick Up Cam Battery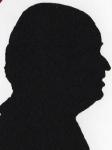 This camera can work indoors or outdoors, possible advantages of the 'battery' version over the 'wired' version is that you do not need to drill a hole through an external wall; another is that if placed on a shelf it is quickly relocatable.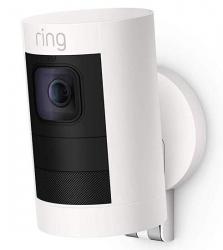 click image to enlarge
The camera is round at 6cm and is 9cm tall; if you use the fitted stand this will add 2cm to the overall height and depth. Apart from sitting on a shelf or fitment it can be attached to a wall or ceiling and almost anything else as the stand can be twisted and turned to virtually any angle.
However if you are using this battery version of the camera outside be aware that the battery does need to be removed to be recharged so sighting must be a consideration.
While on the subject of the battery both lights on the battery stay on even when the battery is charged the only way you know if it's charged is from the App once reinserted in the camera.
The camera has a siren which you manually turn on once you see something wrong, while it is loud when used indoors I doubt it would bring the neighbours rushing over, when used outside it may be more of a deterrent.
Talking of neighbours there is an option to ring a neighbour once you see a problem that assumes you get on with your neighbours.
Placement is everything and time should be taken to blank out areas that can give false positives like trees and bushes or near the ground for foxes or cats.
Live view worked well and unlike a lot of other manufacturers you can have this feature working on a PC so when at work you can speak to the dog or cat and tell them to get off the sofa or maybe even a burst of the siren.
Event history is very good so you can look back to see just when your child came and went. Motion snooze can be a good tool as indeed is the shared user option all available from the top menu.
I found the images great both inside and out with infra-red still giving a good clear image even on the darkest night. I would have preferred to have the ability to turn off the blue indicator light on the unit; if it's there I have not found it. There is a near full screen option with some choices and a true full screen both in landscape.
With the full screen it is even possible to pan to the edges of the view using your finger on the screen and their very little fish eye effect.
There is very little lag between the image and action with less than a second being the delay in my tests.
While it is never a good idea to point the camera towards a light source such as a glass door or window I found this kept the image clear even with a bright light behind.
Nice clear images and good sound, the ability to talk could avoid missing the courier and the only minus points have been mentioned above. It comes with free 30 days of cloud storage before you have to pay for this feature.
The Ring Stick Up Cam battery is available from Amazon for £179 with free delivery and is available in either black or white.