Philips WakeUp Light HF3520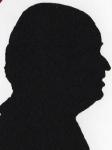 Soon – dependant on how early you need to get up – it will not be in daylight, so those morning rise ups for work become harder. There is a way to wake up more gently and that is by something like this light rather than a harsh alarm clock.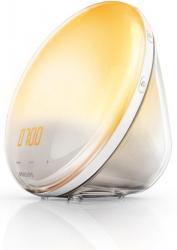 click image to enlarge
Not an entirely new product as I have used and reviewed several previous versions, this however is certainly the smallest unit.
It is circular but on a tilt so it's 20cm across and 20cm tall and has a footprint with power lead attached of 14cm. The light part is the vast majority of the front with only the lower 7cm being the digital clock and touch screen control buttons below that.
For those that have not seen these before the light comes on at an extremely low level up to 30 minutes before the selected alarm time and over the remaining times becomes brighter and brighter until you would need to be in a coma of have your head under a couple of pillows not to feel the brightness even with your eyes tightly closed, after this either your radio station of choice or a choice of wildlife sounds can be selected to rouse the comatose but you have been woken kindly rather than the shrill of a conventional alarm which brings you instantly awake even when in a deep sleep. The light is initially very orange before slowly very slowly becoming an extremely bright white one.
As stated this is a mains powered unit so find the place you want to use the unit before plugging in, there is one weakness with this unit if there is a power cut…
The power lead plugs into the back and ends 1.5metres later at a small 13amp power brick. The FM radio aerial is hard wired and stretches to 1.3 metres.
You set the time then either one or two alarms you choose and also if you want radio or wildlife sounds to wake you.
Around the outside are the two alarms – one left and one right – and between them brightness controls and the FM radio buttons. All the time it has power it remembers your choices but if power is lost you are back to stage one.
Should you wish you can set the unit to drift off to sleep with you and for those who need just a few minutes more sleep a snooze button.
It is also possible to use the unit as a bed side light for those who like to read in bed so there are separate on/off controls that do not affect the alarm times or settings.
There is an A5 multi language manual choice of thirteen with the first eighteen pages in English there are plenty of illustrations.
If it had some form of battery backup even if this just kept the clock going for say eight hours and then gave a buzzer at least it would wake you in time for work if the power cut occurred at the worst possible time just after you went to sleep.
The brightness of the light is even brighter than I remember from previous models and you can set the intensity as at its brightest it is very bright.
This is a great way to avoid the winter wake up blues and while some may consider this early to mention the word Christmas it is surely a gift that anyone who has problems getting up would cherish.
The Philips HF3520 is available from Amazon for £128.68 with free delivery and it qualifies for a £10 reduction at checkout is purchased by 30-12-16.