Panasonic Toughpad FZ-G1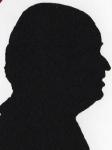 If you expect your Tablet to have a hard life then you are better off paying more and getting one that will survive knocks and drops and even a degree of getting wet. In fact Panasonic launched another of their Toughbook's on a weather balloon to the edge of the earth's atmosphere and then brought it back by parachute and it still worked.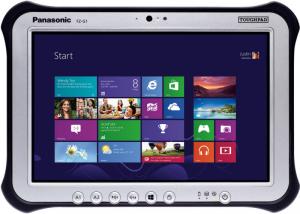 click image to enlarge
If you expect me to give it such a test you are mistaken, however I did take it out and about and while the temperature was below freezing but it was not nearly as low as those for the one below the balloon.
I did use it in drizzle without problem. However my job is to review what is put before me and this is a powerful Windows 10 unit. Four hours on the first day was spent getting all the updates from the Internet to upgrade from Windows 10 version 1511 to the 'Anniversary Version' 1607 which most will have got at the end of 2016. The number of restarts was seven and everything has to be done in the order required by Microsoft which seems crazy as it's a new operating system and after the upgrade you have a Windows Old directory with 28GB of files in it, still once the last update for version 1611 is done and you have done another restart you are able to delete almost all of these files.
It is 28x19.5x2.5cm all those measurements are at the heavily padded corners and it weighs 1050 grams. The viewable screen is 21.5x13.5cm and the notional diagonal imperial measurement is 10.1 inches, the default screen resolution is 1920x1200. You may think this is large for a 10.1 inch screen but it works well.
The unit is fully multi 'touch' and it has full zoom ability for small text sizes and blueprints.
The four corners are heavily rubberised so most drops from waist height should not cause problems, the rest of the edges are also padded.
Behind a protected door on the right side are HDMI, USB3 and Headphone sockets. The power adapter plugs in behind a rubber bung at the right top corner and on the right side back is a Stylus for both handwriting and those with dirty hands, it also works with gloved hands. The rear has a single adequate speaker.
There are cameras both front and back there are LED lights and it has a hot swappable battery.
It comes with Windows 10 Pro as well as some Panasonic settings software.
Below the screen are a line of six push buttons, A1 which opens the setting software, A2 opens the onscreen keyboard and both these buttons work in reverse as well. Volume down, Volume up, Windows button and Auto rotate. Then three pin hole LEDs and finally the on/off button.
Boot up is a very good 14 seconds while shutdown is three seconds. There is 98.5GB of SSD storage with 70.6GB free once upgraded to Windows version 1607; less space is free under Windows version 1511. It has 4GB of RAM.
It is stated to last up to 14 hours between charges. I certainly managed nine hours streaming full screen video which I thought was excellent.
I enjoyed my short test period with this Intel Core i5 unit. I can see that site managers and the like giving this good use. There is a countertop cradle for those who think it could help and also a car unit. I also notes that Panasonic give the unit a full three year warranty. The quality screen is non reflective which for outdoor use is vital.
The Panasonic Toughpad is available from Amazon for £1899.99 with free delivery.
Additional information on the Toughpad is available on the Panasonic web site.